Theatre in the Park's Children of Eden'' features Jewish performers
Published: Thursday, 30 May 2013 12:00
Written by Barbara Bayer, Editor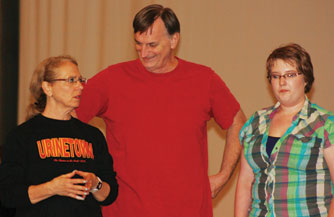 Theatre in the Park opens its 44th season of family musical entertainment with its version of "Children of Eden." The cast includes three members of the Jewish community — Lyndsey Agron, Ruth Baum Bigus and Paris Naster — and the show has a decidedly Jewish flavor.
"Children of Eden," with music and lyrics by Stephen Schwartz (who also composed "Wicked," "Godspell" and "Pippin") is freely based on the story of Genesis, specifically the stories of Adam and Eve, Cain and Abel and Noah and the Ark. It is described as a frank, heartfelt and often humorous examination of the age-old conflict between parents and children.
Bigus, the most experienced of the TTIP Jewish performers, said this show has a powerful message about the importance of family and how families grow and change.
"It is special to perform in a show that is based on Torah stories of the Garden of Eden and Noah and the ark. And I love the music of Stephen Schwartz (another member of the tribe)," said Bigus, who appears in "Children of Eden" as a storyteller and in the Octet.
The youngest of the Jewish performers at 16, Paris, who is in her first TTIP show, said the music in "Children of Eden" is beautiful. She has enjoyed her involvement in it so far.
"I think learning about the Bible in a musical way is truly emotional," said the daughter of Debbie Naster, who will be a junior at Blue Valley Northwest High School in the fall. She actively participates in the Jewish Student Union club at the school.
Paris, who plays a storyteller in the show, has a solo in the song "The Wasteland." In this song, the storytellers describe Adam and Eve's desolate new environment after being banished from the Garden of Eden.
Agron, who plays the role of Aysha, one of the daughters married to one of Noah's son, first appeared in a TTIP show in 1996. She said all ages can enjoy "Children of Eden," which is her fourth TTIP show.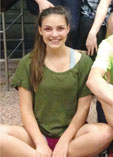 The casts for all TTIP shows are selected after an incredible weekend of auditions in the spring, drawing hundreds of aspiring actors from our surrounding communities. Bigus has auditioned many times over the years for TTIP, appearing for the first time in the summer of 1975. She appeared in "West Side Story" in 1983, twice in "A Chorus Line," as well as "Cabaret," "Footloose" and last summer's "Urinetown."
TTIP draws an annual attendance of approximately 50,000 patrons, drawing patrons from throughout the Greater Kansas City area. Bigus said it's special to perform in the park's beautiful setting.
"Being outdoors allows for so many different people to come see musical theatre — many for the first time," said Bigus, who also serves as the theater's publicist.
The other two Jewish cast members enjoy being with the people involved in the show.
"The people are incredible," Paris said. "Everyone's really good friends and the adults are really friendly to the children and it's a really, really accepting environment, which is awesome."
Agron, who has been performing for 21 years in both community productions such as this as well as professional ones, likes forming relationships with other cast members. She enjoys performing in general because she "gets to share what I love to do." When she's not performing Agron works at VinSolutions.
Paris has been performing in musical theater since she was 9 and enjoys it because "you're able to experience your emotions and you're able to captivate the audience and create an entirely new world for them but they are still able to connect it to the real world.
"I think that's really cool that you can change someone's life for two hours," Paris said.
Performing is something Bigus has loved since she was a kid and her performances can be traced back to Nallwood Junior High School. Besides TTIP, she has had the opportunity to perform at Starlight, Barn Players and the Jewish Community Center. She has recently started a non-profit performing group with three friends called MidLife Players.
"We do performances of musicals in an 'in concert' style with scripts in hand. We focus on musicals we love but that we wouldn't necessarily be cast in because of our age. Our next show is 'Forbidden Broadway-Greatest Hits' that will be performed in October," said Bigus, who when not pursuing her hobby is a journalist with her own non-profit media relations firm, a wife and a mom.