Take Steps for Crohn's & Colitis raises funds to cure digestive diseases
Published: Thursday, 30 May 2013 12:00
Written by Barbara Bayer, Editor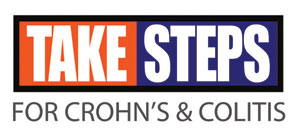 If you are a Jewish person of European descent, particularly of Ashkenazi descent, it's likely you know someone who suffers from Crohn's Disease, ulcerative colitis or irritable bowel syndrome. Those afflictions are painful and incurable and not always easy to talk about or to share with other people.
Many of these people turn to the Crohn's & Colitis Foundation of America, Inc. for support. The foundation's mission is to cure Crohn's disease and ulcerative colitis and to improve the quality of life of children and adults affected by these diseases. Known collectively as inflammatory bowel diseases, these painful, chronic illnesses affect up to 1.4 million Americans, including approximately 140,000 children under the age of 18.
Locally CCFA is sponsoring the only event dedicated to finding a cure for these digestive diseases called Take Steps for Crohn's & Colitis. It takes place on June 9 at Franklin Park.
Walk Manager Pam Glickman explained the Take Steps walk raises money for the CCFA's programming here in the area. Activities include support groups, educational programming and a summer sleep-away camp for children who live with Crohn's and colitis. She said the event is more of a festival than a walk.
"We'll have music with a live band, food and children's activities. It's a community atmosphere for people to get together because it's a disease that not many people want to talk about," Glickman said.
Registration and the festival begin at 4 p.m.; the walk begins at 5 p.m.
"We try to make it a fun atmosphere for the children, too. So we'll have characters for kids, a fire truck, face-painting and games for the children. We'll also have an artist in the kids' tent who will do a project with them," Glickman said.
The walk itself is very short, a little more than a half mile Glickman pointed out, because many who have the disease can't travel long distances.
"Those who can may choose to walk the full mile," she said. "It's a short walk because we try to be respectful to what the patients' needs are at any given time."
There is no set registration fee.
"We encourage people to donate $25," said Glickman, who expects 350 to 400 people to attend the event.
"We're a very small walk but we are on target to raise $75,000 this year," Glickman said. This is the sixth Take Steps Walk in the metro area.
Glickman proudly points out that 82 cents of every dollar raised goes back to the foundation for research, programming and education.
"That's huge. Some charities don't even send 50 percent back into their activities. We keep our administrative costs to the bare bones so we can put more money into research, programming and education," said Glickman, a member of Congregation Beth Shalom.
One of the activities Take Steps funds is the summer camp held in Potosi, Mo. The children get on a chartered bus at St. Joseph Medical Center on a Monday and return on a Thursday night.
"Most of our children won't go to a regular camp. It is an amazing time for these children to get to be with other children like them," said Glickman. "About 75 children will attend from the Midwest region," Glickman said.
Glickman has no exact statistics as to how many people in the Kansas City area suffer from inflammatory bowel diseases. One local Jewish family who plans to participate in Take Steps for the first time this year is still learning to adjust to their daughter's diagnosis.
"Our daughter Paige is 11 years old and was diagnosed a little more than a year ago," said Kerry Kuluva. "We haven't been real involved yet with the Crohn's & Colitis Foundation, but I've heard good things about it and I'm glad to know that there is a resource out there that might be a help to us in the future."
Paige is of Ashkenazi descent and has another relative who has Crohn's.
"We've had a hard time getting her symptoms under control. It's been a long process," Kuluva noted.
The Kuluva family has decided to join the Juliana's Journey team in this year's Take Steps walk.
"It's important to raise awareness and money to help fund research and hopefully find a cure someday," Kuluva said. "This is still kind of new for us so we are excited to see what it's like and I'm glad that there's an event like this locally."
Juliana's Journey is led by Julie Quickel and it supports their 8-year-old daughter Juliana. This is the first time the Quickels have organized a Take Steps walk team here and as of Monday it had raised more money than another team, $5,616.
Quickel said her daughter has had a severe case of inflammatory bowel disease and has been sick since she's been a baby.
"We just wanted to get more involved with our local chapter and try to raise awareness and funds for it so people can learn more about it and realize how devastating it can be to people," said Quickel, who hopes the team will number close to 45 people by the day of the walk.
In addition to those attending the Take Steps event, Quickel said Juliana's Journey is having a benefit fundraiser at Firehouse Subs located at 7521 W. 119th Street in Overland Park on Saturday and Sunday, June 1 and 2. Mention that you are a part of Juliana's Journey and 21 percent of your order will be donated to Take Steps.
Take Steps' Glickman came on board with CCFA 15 months ago, just six weeks before the 2012 walk. Glickman, who also coordinates the walks in Topeka (Sept. 22) and Wichita (Oct. 6.), is excited the event is almost here.
"We would love to have more people come out and join us on June 9," she said.
For more information, contact Glickman at This email address is being protected from spambots. You need JavaScript enabled to view it. or call 646-457-8865.