New Campus exec brings years of experience to position
Published: Thursday, 09 May 2013 12:00
Written by Ruth Baum Bigus, Special to The Chronicle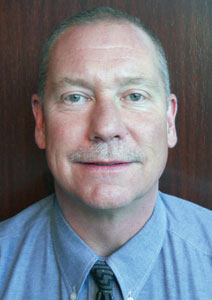 After 25 years as the Jewish community's central address, the Jewish Community Campus has a new leader at the helm.
He's Dan Cullinan, who started on the job May 1. Cullinan takes over the formidable task of overseeing the operations of the 267,080-square-foot mixed-use building that is home to numerous Jewish agencies that incorporate social services, schools, fitness facilities and pools, a state-of-the-art theater, classrooms, meeting and conference rooms.
Cullinan takes over for the retiring Alan Bram, who's been executive director at the Campus since 1987 — a year prior to the building's opening. Bram will be available to help during this transition period.
Cullinan, 52, was chosen for the position by a search committee from the Campus board of directors led by Greg Wolf. The board approved the hiring.
Cullinan has more than 25 years of experience in the property management business, most recently with Executive Hills Management, Inc. During his latest association with Executive Hills, owned by Larry Bridges, Cullinan served as property manager/tenant relations manager for One Kansas City Place, Twelve Wyandotte Plaza and One Petticoat Lane.
"This opportunity is a once in a lifetime," said Cullinan of the new position at the Campus. "To be able to come in after what Alan has done and follow in his footsteps in the class A fashion he operated is just great. I'm very excited, and I'll hit the ground running," he added.
After graduating from the University of Kansas with a political science degree, Cullinan jumped into the property management industry. He first joined Executive Hills in 1987 managing a variety of properties and learning from Bridges firsthand. Cullinan also spent time as facilities manager with Harrah's Entertainment in both Topeka and North Kansas City. Later, he spent a year with Stoltz Management Company working as the maintenance manager for the Corporate Woods Office Park before rejoining Executive Hills.
Cullinan gives credit to Bridges for bringing him to where he is today.
"He's made this possible for me," said Cullinan of Bridges. "He's been a mentor to me — almost like a surrogate father. I give kudos to Larry for training me in this industry. Without his mentorship, I don't think this would have been possible."
John Rubenstein, president of the Campus, said Cullinan becoming executive director is good for the Campus. Rubenstein said Cullinan's boss Larry Bridges was associated with Frank Morgan and Sherman Dreiseszun, patriarchs of two of the four founding families that provided the land for the facility in southern Johnson County.
"Dan is perfect for this job, we are fortunate to have him," Rubenstein said.
Outside of the work world, Cullinan is the father of three grown children and will be a grandfather this fall. He lives in Olathe, enjoys golf, baseball and NASCAR. At one time, Cullinan worked for the Richard Petty Driving School as a member of the pit crew.
"That was a blast," he said.
These days, Cullinan is using his high-speed experience to settle into his new position as the Campus' chief executive.
"This is the next step up for me," Cullinan said. "I'm going to be very visible with my agency contacts, and I am looking forward to working with Alan's team."