Joel Feder named Family Physician of the Year for 2013
Published: Thursday, 21 March 2013 13:00
Written by Ellen R. Portnoy, Contributing Writer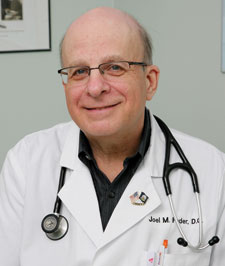 "I am very proud of being a family physician," said Joel Feder, D.O.
And family physicians are very proud of Dr. Feder. Today, Thursday, March 21, he will be presented with the 2013 Family Physician of the Year Award from the American College of Osteopathic Family Physicians (ACOFP).
Each year every state organization of family physicians can nominate an individual doctor for this national award. Dr. Feder was nominated by the Kansas organization. A committee decides who from this list will receive the award.
"I am absolutely thrilled because this is given by my peers," said Dr. Feder. "This means an awful lot because it shows how they feel about me, which makes it very special. I feel as if I am sharing this award with other Kansas osteopathic family physicians who cannot do what I do, who are not as lucky as me."
Dr. Feder has been practicing medicine for more than 35 years. After he graduated in 1975 from the Kansas City University of Medicine and Biosciences (KCUMB), he did his residency in the Navy at the Naval Regional Medical Center in Philadelphia. He served on active duty in the Navy for three years, and then served in the reserves for 35 years, retiring in 2008 as a Navy captain.
In practice in Overland Park for most of his career, Dr. Feder has remained active at KCUMB as a clinical preceptor for their students and an adjunct faculty member. In this role, he allows medical students to come and shadow him at work, allows them to take patient histories and a cursory exam, then he completes the exam and passes his findings on to the students. His efforts to help at the medical school are noticed.
"KCUMB is proud of ACOFP's recognition of Dr. Feder's exemplary leadership. As an outstanding osteopathic physician, teacher, community leader and active member of our alumni association, he is a highly influential role model for our medical students," said Marc B. Hahn, D.O., executive vice president for academic and medical affairs; provost and dean, College of Osteopathic Medicine. "This accolade shines not only on him as an individual, but also on the university and the osteopathic profession."
Besides his work as a mentor, Dr. Feder is very active both on the state level and the national level working for osteopathic family physicians. He is the president of the Kansas Society of ACOFP and is on both the program committee and the committee on federal legislature for the national organization.
In April he testified before the subcommittee on oversight of the House Ways and Means Committee on an issue in the Affordable Health Care Act.
"I testified in favor of patients not having to go to their doctors for prescriptions for over-the-counter drugs when they want to use their Health Savings Accounts," said Dr. Feder. Currently patients can use their HSAs to pay for over-the-counter drugs; however, the new law will insist that only prescription medicine will be eligible. "It will be difficult for physicians and patients to comply with this part," he added.
Dr. Feder enjoyed his time testifying in Washington, D.C. "It was neat to see how the congressmen interact with each other and with those testifying," he said. "It was a marvelous experience. But you see why things are sometimes slow to get done."
As a physician, Dr. Feder supports the Affordable Health Care Act. "We need some changes," he said, "but overall it is a good plan."
In the meantime, Dr. Feder continues to see patients in Overland Park.
He and his wife, Randi, have been married for 41 years. They are lifelong members of Kehilath Israel Synagogue, where their parents and Randi's grandparents also belonged.
He enjoys his work and the field of medicine he chose to practice.
"I think, particularly the Jewish public goes to specialists," said Dr. Feder. "But there is this entire field of family medicine. We take care of everything, from newborns to seniors. If a person needs a specialist, we will send them to one. However, we get to see everything. And I am very proud of being a family physician."