Sokol Bat Mitzvah
Published: Thursday, 07 March 2013 12:00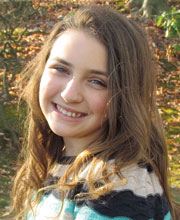 Drs. Shari and Michael Sokol announce the Bat Mitzvah of their daughter, Amanda Janine (Meira Yonina) at the 6:30 p.m. Shabbat Mincha service on Saturday, March 16, at Kehilath Israel Synagogue.
Amanda is the granddaughter of Harriet Baron and the late Dr. Philip Baron of Providence, R.I., and Edna Sokol and the late Eugene Sokol of Akron, Ohio.
Friends and family are invited to worship with the family.