Hartwich-Rosenbaum Engagement
Published: Thursday, 07 March 2013 12:00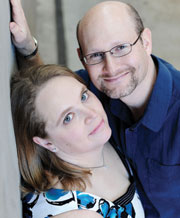 Ralph and Gay Hartwich announce the engagement of their son, Ryan Brent Hartwich, to Rachael Rosenbaum, daughter of Katie Rosenbaum of Newport News, Va., and William and Darlynn Rosenbaum of Lathrop, Mo.
The bride-to-be is the granddaughter of Pearl Skolnick and the late Edward Skolnick and the late Dewey and Wilma Rosenbaum. She attended Yeshiva University and Research College of Nursing, earning a Bachelor of Science degree in nursing. She is a member of Hadassah. She is currently employed as an emergency room nurse in Overland Park.
The future groom is the grandson of Eva Hartwich and the late Werner Hartwich and the late Bernard and Sophie Firestone. He attended the University of Kansas, earning a Bachelor of Science degree in mechanical engineering. He is a member of Toastmasters International and the American Society of Mechanical Engineers. He is currently employed as a computer programmer in Kansas City, Mo.
An April wedding at The Temple, Congregation B'nai Jehudah is planned.