Devinki siblings join U.S. Holocaust Memorial Museum's Founders Society
Published: Thursday, 07 March 2013 12:00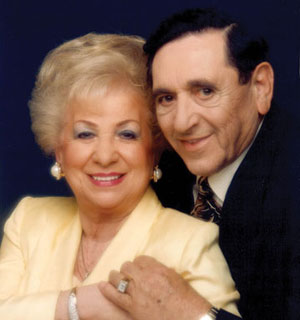 Siblings Sam Devinki, Ida Kolkin and Karen Pack recently became members of the U.S. Holocaust Memorial Museum's Founders Society with cumulative giving of $1 million that will establish The Fred and Maria Devinki Memorial Fellowship Fund within the Museum's Center for Advanced Holocaust Studies. The fund will support the museum's fellowship program for research on the Holocaust and related education and publications.
The center's goal is to provide an ongoing institutional support structure for scholars at all stages of their scholarly careers — from graduate students and junior faculty to post-doctoral researchers and senior scholars. The center's visiting scholar programs, research initiatives, archival collection program, seminars for faculty, research workshops, publications, symposia, and other activities have made the United States Holocaust Memorial Museum one of the world's principal venues for Holocaust scholarship.
The Devinki children have been dedicated supporters of the museum for the last 18 years. Sam Devinki served on the museum's presidentially-appointed council, the museum's governing body, from 2003 to 2008. In 2012, he was presented with the museum's Wings of Memory Leadership Award for the Midwest Region for his more than two decades of dedication supporting the museum on a local, national and international level. Additionally, each year, he leads a group of ninth-grade students from Kansas City to the museum.
"The entire family went to Washington, D.C., in 1993 to celebrate the opening of the United States Holocaust Memorial Museum," Sam Devinki said. "It was an overwhelming experience for our parents. There were tears of joy and sadness. They felt the museum would now be a living memorial to the over 100 family members who were murdered in the Shoah. They taught us that there were three values above everything — family, our Jewish heritage and education."
Both their parents' families' lived in Wodzislaw, Poland, 30 miles north of Krakow at the beginning of World War II. The Devinki children's paternal grandmother and maternal grandfather were both murdered by the Nazis. Their maternal grandfather's business partner, Jozef Gondrowicz was a member of the Polish nationalist resistance movement Armia Krajowa (A.K. or Home Army.) He alerted the family that the Nazis were coming to liquidate the Wodzislaw ghetto. Gondrowicz arranged to hide Sam's parents and other family members in a 10' x 15' dirt hole underneath a barn where they remained for 26 months.
After the war, their parents, Maria and Fred Devinki, went to Regensburg, a displaced persons camp, and eventually immigrated to Kansas City. There they built the successful real estate development firm that remains in the family to this day.
"The Devinki family has been actively involved with the museum since the very beginning, so to receive this generous gift in our 20th Anniversary year is very meaningful," museum Director Sara J. Bloomfield said. "We are most grateful for their partnership in helping us ensure that Holocaust history remains a vital subject of academic research and public education."
A living memorial to the Holocaust, the United States Holocaust Memorial Museum inspires citizens and leaders worldwide to confront hatred, prevent genocide, and promote human dignity. Federal support guarantees the museum's permanent place on the National Mall, and its far-reaching educational programs and global impact are made possible by generous donors. For more information, visit www.ushmm.org.