Teen serves as both local, international BBYO leader
Published: Thursday, 28 February 2013 12:00
Written by Beth Lipoff, Contributing Writer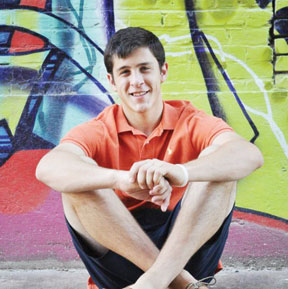 At Ethan Loftspring's first chapter B'nai Brith Youth Organization meeting for Nordaunian AZA, he became sergeant at arms. Since then, he's climbed through the ranks, never looking back.
A senior at Blue Valley North, Ethan has been vice president of recruitment, president of the Nordaunian chapter and is now president of the Kansas City Council of BBYO.
"I had good ideas, and I could use my different social skills to get more people involved," said Ethan, who is the son of Sharon and Peter Loftspring.
His skills at public speaking, remembering people's names and spreading his enthusiasm for new programs and activities have been major assets in helping build up the local BBYO chapters.
"We've kept drugs and alcohol out of the programs, added more community service and communitywide events and (made it) a more positive experience for Jewish teens in Kansas City," Ethan said.
BBYO Program Director Taly Yeyni appreciates Ethan's contributions to the organization.
"He exudes confidence and is really good at making people feel welcome. He really goes out of his way to make (new people) feel comfortable," she said.
When a newcomer from Liberty, Mo., arrived at a BBYO event, Ethan was in his element, Yeyni said.
"This kid knew nobody there. Ethan stood by his side, introduced him to people and really made this kid feel special and welcome," she said. "I think he's a big reason the AZA has grown in numbers tremendously over the last six months."
The 18-year-old's biggest BBYO achievement came recently when he helped organize the BBYO international convention held in Washington, D.C., Feb. 14-18.
"There were six of us from all across the world. We planned it over daily conference calls on Skype," he said. "I wasn't really good at time management before, but when you have classes, BBYO, piano and basketball, you have to learn time management skills, or you don't succeed."
It wasn't just your ordinary youth group convention. Ethan and his fellow planners put together an A-list group of speakers and performers, including U.N. Ambassador Susan Rice, the U.S. Marine Corps Band, the Capitol Steps comedy ensemble, and even President Barack Obama himself, via video.
"It was really inspirational. These people are passionate about what they do, and kids were inspired (by them) to go out into Washington. D.C., and do community service at 35 different sites around the area," Ethan said.
His favorite part about BBYO conventions is celebrating Shabbat with so many different people.
"Kids from Albania, France and Serbia all knew the same prayers that I did. I couldn't even communicate with some of them, but to hear the Bulgarians sing the Shema right next to me was an amazing feeling," Ethan said.
Here in town, he's hoping to create some programming that will join all the different Jewish youth groups together for community service programs.
"We can build a stronger class of Jewish leaders; we can really make a difference if we come together," he said.
Beyond BBYO, Ethan stays involved in the Kansas City Jewish community through his work as a Sunday school teacher for fifth graders at Congregation Beth Shalom.
"You have to connect with them, sometimes as their friend and sometimes as their teacher, but you have to balance it. Being closer to their age helps me talk with them and connect with them," he said.
Ethan recalled one student who didn't know any Hebrew at the start of the year, but by then end, he'd helped her catch up to her peers.
For his own studies, he participated in the Jewish Student Union's JC scholars program last semester, where he studied issues of the Torah with a modern twist.
"Every week, we'd choose a different topic — business, death, medicine — and we'd start off with a modern article, then find places in the Torah and commentary to talk about Jewish views about it," Ethan said.
He's planning to keep expanding his own education after high school by spending next year studying in Israel before attending college. Many of his friends from BBYO will be there with him.
When he returns, he's planning to study biomedical engineering and hopes to become a doctor one day.