Israeli rabbi coming for Caviar series at K.I.
Published: Thursday, 28 February 2013 12:00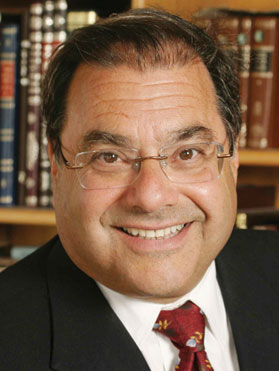 Rabbi Shlomo Riskin, chief rabbi of Efrat, Israel, will be at Kehilath Israel Synagogue as part of the Caviar Family Jewish Scholar in Residence series on Wednesday, March 6. His presentation "Women in Jewish Law, which will be followed by a question-and-answer session, begins at 7 p.m. and will continue until 8:30 p.m. The evening will conclude with a dessert bar. The event is free and open to the public.
In addition to his chief rabbi duties, Rabbi Riskin is also dean of Ohr Torah Stone Institutions and president of the Robert M. Beren College, a part of Beit Morasha in Jerusalem. His regular Parashat Shavua columns and articles appear weekly in the Jerusalem Post as well as in dozens of newspapers and magazines throughout the world.
Rabbi Riskin was born and raised in New York City. He graduated from Yeshiva University, having majored in the classics, and received his masters degree in Jewish history. In 1982 Rabbi Riskin was awarded his doctorate in near-Eastern studies by New York University and received smicha — rabbinical ordination — from Rabbi Joseph B. Soloveitchik at the Rabbi Isaac Elchanan Rabbinical Seminary.
Rabbi Riskin is one of the founders and the first spiritual leader of the Lincoln Square Synagogue in New York, which he led for 19 years. In 1983, at the peak of his profession, he left New York to become the rabbi of Efrat, an Israeli city eight miles south of Jerusalem, which he helped found and establish. Efrat is now a flourishing community of close to 12,000 people.
Rabbi Riskin also founded and serves as chancellor and rosh yeshiva of Ohr Torah Stone Institutions, a network of more than 3,000 students ranging from junior-high schools to post-graduate programs preparing leaders of world Jewry. Each program is characterized by a synthesis of Jewish values, Zionist ideals and a commitment to social justice. Rabbi Riskin's rabbinical seminary and emissarial training programs prepare dozens of rabbis and educators each year, including K.I.'s Rabbi Shmuly Yanklowitz, and place them in positions of spiritual and educational leadership around the world.
Rabbi Yanklowitz said when he first learned of the rabbi's yeshiva in Israel, he immediately quit his corporate job and went there to study for two years. He now calls it one of the most important decisions he has made in his life.
"Rabbi Riskin represents Jewish ideals that I admire so much. He has been a pioneer as a builder of Israel, a tireless pastor, a warrior for justice, and a dynamic educator. He opened me up to a whole new realm of potential," said Rabbi Yanklowitz, who completed his third rabbinic ordination following completion of his studies with Rabbi Riskin.
Rabbi Yanklowitz explained that Rabbi Riskin will discuss the role of women in Judaism from a halachic perspective.
"He has been a cutting edge thinker about tradition and feminism in the Orthodox movement and as a legal authority and activist in Israel," Rabbi Yanklowitz continued.
Ohr Torah Stone's revolutionary programs include a Legal Aid Center for Agunot and a women's "hesder" program enabling observant women to serve in the Israeli army.
A teacher par excellence, Rabbi Riskin has been hailed for his ability to craft his words so that they reach every listener in a highly personal way. He is also an innovative interpreter of Judaism, having authored nine books.