Listening Post
Published: Thursday, 28 February 2013 12:00
Written by Barbara Bayer, Editor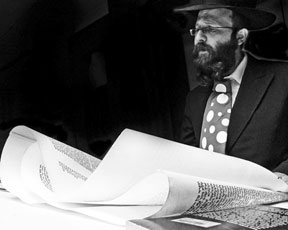 HE WROTE THE WHOLE MEGILLAH — The Kansas City Jewish community may soon have a certified scribe among us. Rabbi Berel Sosover, who teaches Jewish studies to Hyman Brand Hebrew Academy upper school students, began taking classes to become a scribe about a year and a half ago. The first project he tackled was a Megillah he read for the first time on Sunday at HBHA's Purim festivities. "I've been practicing learning the laws and hope to become a scribe in the near future," the rabbi said. It took him close to a year and a half to actually handwrite the Megillah, which he chose as his first project because you don't need to be certified to write one. After he passes the certification test, he hopes to put his new scribe skills to work during summers and free time when he's not teaching. As a certified scribe, he will be able to write Torah and to check teffillin.

CONGRATS TOP 100 — On Friday when many of us were still stuck at home during the Blizzard of Oz 2013, The Jewish Federation of Greater Kansas City posted a mazel tov to its Facebook page, congratulating Jewish Federation Board President Miriam Scharf. She has been named to KC Magazine's "100 list of influencers who help redefine and polish our jewel of a city." She was recognized for her "clear-cut vision of engaging the Jewish community's next generation in philanthropic endeavors through leadership and educational programs continue to build on that community's future." Upon closer examination (and with the help of a friend) I discovered several other Jewish Kansas Citians are on the list including Menorah Legacy Foundation Executive Director Gayla Brockman, Marti and Tony Oppenheimer, who grace the cover as they did on our Guide to Jewish Life a few years ago, Bob Bernstein, Gloria Baker Feinstein, SuEllen Fried, Gloria Rudd, Marilyn Strauss and Sharon Liese. Congrats to all and I hope we didn't miss anyone.

INNOVATIVE IDEA — Two Jewish youths, Matthew Feldman and Sam Fink, are members of a robotics team called the Robotic Kicking Dwarf Warriors, which is competing for The FIRST® LEGO® League Global Innovation Award. The boys are both in fifth grade at Valley Park Elementary. All teams feature members ages 9-16 and they are competing for a $20,000 cash prize that must be used to further develop the team's invention. The team has designed a wheelchair attachment, called the Get Up N Go, that helps seniors transition from their wheelchairs to other places. It's pretty cool. Voting takes place online, but it ends at 11 a.m. local time tomorrow (Friday, March 1). To vote, go to http://fllinnovation.firstlegoleague.org/get-n-go. You can see pictures of the Get Up N Go at the team's website, http://krdwarriors.blogspot.com/. Matthew, a member of Congregation Beth Torah, is the son of Nicole and Jack Feldman. Sam, a member of Congregation B'nai Jehudah, is the son of Robin and John Fink.

BUY ISRAEL WEEK — In its second initiative to combat the Boycott, Divestment and Sanctions (BDS) movement and to promote the purchase of Israeli products, Buy Israel Week began Monday and continues through Sunday, March 3. The campaign will feature special discount vouchers from a variety of online and local merchants that sell Israeli products through the Buy Israel Week website at www.buyisraelweek.com and on Facebook at www.facebook.com/buyisraelweek.
"Many consumers are looking for new ways to support Israel beyond political movements and charities and are unaware of which Israeli products are sold by their local merchants and/or who those local merchants are," said Frances Zelazny, founder of Buy Israel Week. "Our campaign is aimed at building awareness at the consumer level, so that instead of buying products made from another country their choice is to purchase quality products 'Made in Israel.' "
In 2005, a global BDS movement was launched against Israel. Since then, events with Israeli speakers, Israeli universities, and stores that carry Israeli products and Israeli companies have been boycotted with the goal of delegitimizing Israel. "The goal of Buy Israel Week is to combat the efforts of the BDS protestors through the purchasing power of consumers, as well as print and social media campaigns," said Zelazny. "Every purchase makes a difference in improving Israel's image."