Bucksner, Abe J.
Published: Thursday, 21 February 2013 12:00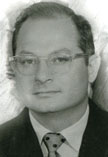 Abe J. Bucksner, 91, died Saturday, Feb. 16, 2013, at The Atriums in Overland Park.
Services were held Tuesday, Feb. 19, in the Kehilath Israel Blue Ridge Cemetery Chapel, followed by burial.
He was born Aug. 7, 1921, in Kansas City, Mo., and served his country in World War II.
For many years, Abe managed Wornall Auto Parts in South Kansas City. He was a lifelong Democrat who often expressed his support for liberal causes with letters to the editor of The Kansas City Star. Abe served as chairman of the board at Park Lane Medical Center in Raytown. He was a member of Kehilath Israel Synagogue for more than 50 years.
Abe enjoyed golf, lived simply and was a gentle man devoted to his family.
He was preceded in death by his wife Rose Bucksner.
He is survived by sons David (Heather) Bucksner of Omaha and Brian (Nanci) Bucksner of Overland Park; four grandchildren; and two great-grandchildren.
The family suggests donations to the Democratic Party or any charity that promotes social justice.
Condolences may be shared at www.louismemorialchapel.com.
Arr: Louis Memorial Chapel, 816-361-5211.