Hill Bat Mitzvah
Published: Thursday, 21 February 2013 12:00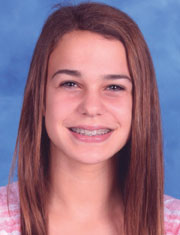 Todd R. and Sarah L. Richman-Hill announce the Bat Mitzvah of their daughter, Anna Marie Hill, at 9:30 a.m. Saturday, March 2, at Temple B'nai Sholem, St. Joseph, Mo.
Anna is the granddaughter of Arlan Richman and the late Annabelle Richman of Dallas, William and Patricia Jenkins of Platte City, Mo., and Clyde R. Hill of Platte City.
Relatives and friends are invited to worship with the family and to attend the Kiddush following the service.