Parnes Bat Mitzvah
Published: Thursday, 21 February 2013 12:00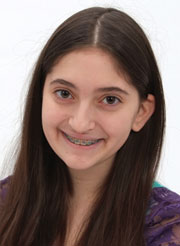 Judi and Larry Parnes announce the Bat Mitzvah of their daughter, Julia Rebecca, at 9:30 a.m. Saturday, March 2, at Congregation Beth Shalom.
Julia is the granddaughter of Joe Karbank, Mary Parnes and the late Arnold Parnes, and the late Marika Karbank.
Relatives and friends are invited to worship with the family and to attend the Kiddush luncheon following the service.