Western Extralite, Isenbergs receive Patriot Award
Published: Thursday, 21 February 2013 12:00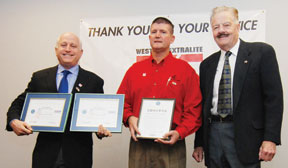 After four years away serving his country, Staff Sgt. Gene Baker recently returned to his job at Western Extralite, where he had worked for three years before the reserves called him to active duty. The support shown by his employers upon his return was so extraordinary that Baker nominated them for the honor of a Service Member Patriot Award.
The Patriot Award recognizes bosses who have been nominated by a National Guardsman or reservist employee for support provided directly to the nominator — in this case Baker. The staff sergeant recently returned from a year in Qatar, where he led a squad responsible for base and convoy security. Prior to deployment, he was assigned to serve as an instructor in military science and physical training for the ROTC and National Guard programs at universities. Today, he has returned to his position as an account manager at Western Extralite.
The Patriot Award was presented by retired trooper and Air Force Office of Special Investigations Agent Bob Schure at a ceremony on Feb. 12. John Isenberg, Western Extralite vice president government relations, accepted the award on behalf of himself and his brother, Western Extralite President Tom Isenberg. The full-service electrical and datacomm products distributor has 17 locations across Missouri and Kansas including headquarters in the West Bottoms.
Honorees are selected based on efforts made to support citizen warriors through a wide range of measures including flexible schedules, time off prior to and after deployment, caring for families, and granting leaves of absence.
The Patriot Award is given by a Department of Defense agency, The National Committee for Employer Support of the Guard and Reserve (ESGR), which was established in 1972. ESGR staff work with a network of more than 4,800 volunteers across the country to promote and enhance employer support for military service in the Guard and Reserve. Today, the reserves make up nearly half of the total armed forces.
With more than 1 million cubic feet of warehouse storage space spread across 17 locations in Missouri and Kansas, Western Extralite stocks more than $7 million in inventory and offers on-demand access to more than 13,000 electrical and datacomm products. Recently named the Greenest of the Green of all the electrical distributors in the nation, Western Extralite also was awarded gold and silver KC Industrial Council Sustainability Awards. The company installed the Midwest's first solar wall in its Manhattan, Kan., facility and built the first LEED certified building in Lawrence, Kan. In June 2011, Western Extralite made the largest single solar investment by any company in Missouri up to that date, installing solar electric generation systems at six service centers.