Zwillenberg-Lundquist Engagement
Published: Thursday, 14 February 2013 12:00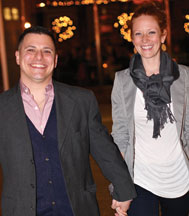 Janet and Louie Zwillenberg and Joan Lundquist announce the engagement of their children, Melissa Lundquist and Jeremy Zwillenberg of Chicago.
The bride-to-be is the granddaughter of the late Mary and Winston Green of Grand Mound, Iowa. She graduated with a bachelor's degree in business administration from Northern Illinois University. She is currently a member of the Human Capital team at Sterling Partners.
The future groom is the grandson of Marian Grossman, the late Jerome B. Grossman and the late Joseph and Edith Zwillenberg of Kansas City, Mo. He graduated from the University of Wisconsin with a bachelor's degree in economics. He is currently a freight broker at On a Roll Trucking.
A family wedding in Chicago is planned for October.