Flamini Bar Mitzvah
Published: Thursday, 07 February 2013 12:00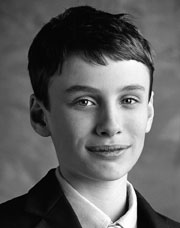 Molly Shapiro and Andrea Flamini announce the Bar Mitzvah of their son, Harry Romulus Flamini, at 9:30 a.m. Saturday, Feb. 16, at Congregation Ohev Sholom.
Harry is the grandson of Patti Shapiro and the late Alvin Shapiro, and Bruno and Luisanna Flamini of Rome.
Relatives and friends are invited to worship with the family and to attend the Kiddush luncheon following the service.