Rosenthal Bat Mitzvah
Published: Thursday, 07 February 2013 12:00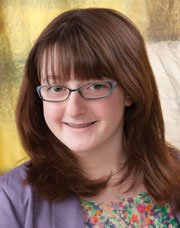 Dr. William and Jodi Rosenthal announce the Bat Mitzvah of their daughter, Melissa Nicole, on Saturday, Feb. 16, at Kehilath Israel Synagogue. Missy will participate in the Traditional Kehilath Israel service beginning at 8 a.m. She will also lead Congregation Beth Shalom's Conservative service at 10:30 a.m., immediately following the K.I. service. Both services will be at Kehilath Israel Synagogue.
Missy is the granddaughter of Noreen Greenberg and the late Marvin Greenberg and the late Dr. Mortimer and Harriett Rosenthal.
Relatives and friends are invited to worship with the family and to attend the Kiddush luncheon following the service.