Sasone brings the joy of Jewish learning to children with special needs
Published: Thursday, 07 February 2013 12:00
Written by Trudi Galblum, Special to The Chronicle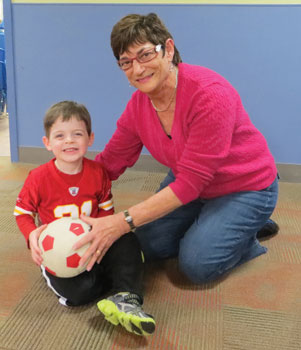 Mickey Batnitzky, one of the Hyman Brand Hebrew Academy's best-loved teachers, retired in 2008 after 31 years at the school. Three years later, realizing how much she missed working with children, she became a paraprofessional, or "para," for Sasone.
Sasone is a program of CAJE/Jewish Federation that supports children with special needs so they can participate in Jewish educational experiences. Perry Hilvitz, director of Sasone as well as director of student programs for North Kansas City's 32 schools, oversees Sasone consultants, who in turn advise and work with area educators and paras in Jewish schools and camps.
Paras like Batnitzky become part of a team that includes the child's parents, teachers and Sasone consultant, all devoted to helping the child overcome whatever challenges might be inhibiting his or her ability to participate and be successful in educational settings with other children. Making sure that children with special needs can learn and make friends in Jewish environments is an added benefit.
The way Batnitsky puts it, "The whole idea is for the child to be mainstreamed, and that is what Sasone is about. The same way the child with special needs learns from other children, other children in the class learn from the child."

A little bit of help

Batnitzky's first assignment as a para, which lasted the entire 2011-12 school year, was 2-year-old Wyatt Gerber at the Jewish Community Center's Child Development Center (CDC). Wyatt's mom, Julie Gerber, first heard about Sasone during her tour of the facility, never thinking she would need the program's services.
When it turned out that Wyatt had difficulty listening and following directions and, on occasion, would disturb other children, his teacher asked his parents if they would agree to have him observed by the Sasone consultant. Based on her observations, the consultant recommended that Wyatt work with a para.
"Mickey was able to give Wyatt more one-on-one attention than the teachers could," said Gerber. "She worked on increasing his attention span, following rules and keeping him safe, like on the playground when he would try to climb up the sliding board."
Communication between Batnitzky and Wyatt's parents was an important factor in the success of their relationship. Every day, Batnitzky sent home a written report describing what they did that day and how Wyatt was progressing, which provided his parents with things they could talk about with him and fostered consistency in interactions at home and school.
"If he didn't have his para, I don't know if he would have lasted there," said Gerber. "There are a lot of kids like Wyatt for whom a little bit of help makes a big difference."
Sasone also provided Wyatt with a para in the summer when he attended camp at the CDC.

Accent the positive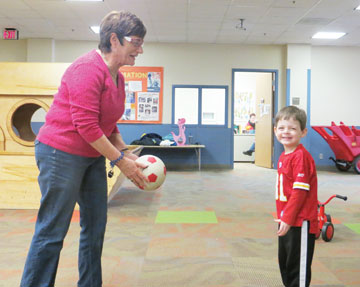 "People need to know that paras are not babysitters," said Hilvitz. "They provide therapeutic intervention. Our paras range in age from 16 to 60-plus. It's a plus when they have specific training, such as working with kids who are sight or hearing impaired.
"But, basically, the most important qualification for the job is the ability to balance consistent discipline with caring support. Like any good teacher, the para needs to be able to say, 'I know this is difficult but we're going to keep working on it till we get it right and we will celebrate every little victory.'"
For Batnitzky, doing that comes naturally.
"First, you have to really like children and enjoy being with them," she explains. "Then, you have to show very positive attention to good behaviors. You figure out what you want the child to do. Instead of saying, 'Don't leave your toys on the floor,' you say, 'Show me how you can put your toys away.' Recognize signs of stress and the need to move about. Touch the child affectionately. Play little games. Offer a second chance. Give a high five."
Approaches like these can be effective working with all children. So, in addition to an extra set of hands, Sasone paras often provide classroom teachers with pedagogical and behavior management strategies they can use with all students.
"I enjoy coming to work every day," says Batnitzky. "I feel I'm contributing not only to the child I'm working with, but sharing ideas and helping the teachers as well. I'm giving back to the community."
Jewish Disability Awareness Month
February is Jewish Disability Awareness Month. While no special events are planned in the Kansas City area to commemorate the month, it was officially designed by the Jewish Special Education International Consortium to raise awareness and support efforts throughout North America to foster inclusion of people with disabilities and their families in Jewish communities worldwide.