Family's third child this year's first Jewish baby
Published: Thursday, 17 January 2013 12:00
Written by Barbara Bayer, Editor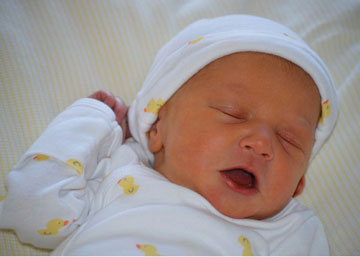 A is Alison, Adam, Abigail, Asa and now Amelia in the Kaye family. Baby Amelia Esther Kaye, the third child for Alison and Adam Kaye, was born at 10:10 a.m. Thursday, Jan. 10, at Shawnee Mission Medical Center and is The Chronicle's First Jewish Baby for 2013.
Proud papa Adam said the little girl — who weighed 7 pounds, 1 ounce and measured 20.5 inches long at birth — was named this past Saturday at BIAV. Her Hebrew name is Amalia, which means Hashem's work. Adam pointed out that her Hebrew name is very appropriate and relates to Vaeira, which is the Torah portion that was read on the day the baby was named. In that portion G-d is beginning his work for the redemption in Egypt by sending the first seven plagues to Egypt in homes of forcing Pharaoh to let the Israelites leave Egypt.
It's coincidental that Adam, Alison and their other two children have English names that begin with A. They chose to name their oldest daughter, who will be 4 next month and was born in Philadelphia, Abigail simply because they liked the name. Son Asa, who is 2 and attends the Jewish Community Child Development Center along with his older sister, is named after a grandparent.
"So we had to give Amelia an A name so she wouldn't feel left out," Adam explained.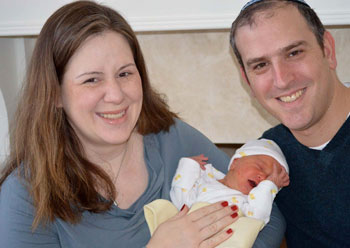 Amelia, who was due Jan. 7, has been a good baby according to her mother. Her siblings are also adjusting well to the new addition, who has brown hair and gray eyes.
"They love her. Abigail is now calling herself the biggest sister and has held her a few times. Asa is a little young and doesn't quite get it yet," Adam said.
The Kayes are active members of BIAV and are among the next generation of Kansas City's Jewish leaders to be honored on Sunday, Jan. 27, at the annual Purim Gala. They moved here in 2009 — he is a general and trauma surgeon at Overland Park Regional Medical Center and she is a pediatric plastic surgeon at Children's Mercy Hospital — and have no family members living in the area. So friends at BIAV have stepped in to provide helping hands as their shul family.
"Friends slept over at our house for two nights while we were delivering and the first night after she was born, taking our older two children to school and everything. BIAV has a food list and they are giving us a meal every other day so we don't have to worry about making food or feeding our kids," Adam said. "All we've heard is how can we help? Let me take your kids away from you for a little while. Our kids have had lots of play dates."
In fact Adam said BIAV played a big role in their decision to stay in Kansas City.
"I came here for training," he said, "and we decided to stay afterwards."
In celebration of Amelia's birth, the Kaye family received the following prizes, provided by Chronicle advertisers:
• BabyCakes — Cupcake
• Cigar & Tabac, Ltd. — "It's a Girl" cigars
• Craig Sole Designs — Bouquet
• Cosentino's Price Chopper — $25 gift certificate
• Gates Bar-B-Q — $25 gift certificate
• Irish Crystal Co. — Silver-plated Pull Duck Bank
• Johnson County Community College — Pair of show tickets to either "The Swingle Singers" or "Stories from Lake Wobegon" with Garrison Keillor
• Klipped Kippahs — Officially licensed Kansas City Royals Pro-Kippah
• Nall Hills Liquors — a bottle of kosher wine
• Riley's Phillips 66 — $25 gift certificate
• Sheridan's Lattés & Frozen Custard — Gift card
• Urban Table — $25 gift card