Parenting expert, new chuppah to highlight BIAV Purim Gala
Published: Thursday, 17 January 2013 12:00
Written by Carol Katzman, Special to The Chronicle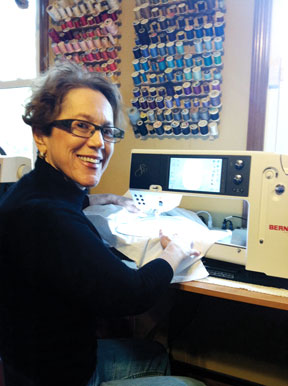 Purim Gala was created in 1998 by a group of spirited young volunteers who wanted to ensure that their synagogue — Congregation Beth Israel Abraham & Voliner — would survive and flourish. In past years, the Purim Gala has honored men and women from the broader community who have received the Mordechai Award for service to the Jewish people.
Now those young volunteers are all grown up, says Rabbi Daniel Rockoff, spiritual leader of BIAV. "The logo of our shul is 'in the path of our fathers.' One of our most important traditions is making sure there is a foundation in place for the next generation."
So this year's Purim Gala does not have a singular honoree. There are no individuals being honored, but rather the entire up-and-coming generation of young adults under the age of 40 will be recognized on Sunday evening, Jan. 27, at Oakwood Country Club. These honorees consist of homegrown Kansans who have moved back as well as transplants from outside K.C. and beyond America's borders.
"As we look around, there is a wealth of young, educated spiritual individuals who are making a commitment to their families, their professions and their synagogue," Rabbi Rockoff added. "They have joined the BIAV family and provide our best hope for the future."
Highlighting the evening's program is Rona Novick, Ph.D., the director of the Fanya Gottesfeld Heller Doctoral Program at the Azrieli Graduate School of Jewish Education and Administration at Yeshiva University. She'll address "Youthful Wonder: What We Can Learn from Children."
"The most important advice I have for parents, grandparents and anyone who works with children is to enjoy them, and find the magic and amazing core that's in every child, although sometimes hidden," Novick said.
"Love them at every age and every stage, and be open to learn from them and grow with them," she added.
Novick also serves as co-educational director of the Hidden Sparks program, providing consultation to day schools and yeshivas. She has developed the Alliance for School Mental Health at North-Shore Long Island Jewish Medical Center and served as its director for eight years, authoring the BRAVE bully prevention program for schools.
Novick is the author of a book for parents: "Helping Your Child Make Friends," and editor of the series "Kids Don't Come With Instruction Manuals." As the mother of three sons, she credits much of her knowledge and skill to on-the-job training.
"Increasingly our Jewish schools and Jewish communities are recognizing how important it is to create a welcoming culture that embraces everyone, values everyone, and recognizes that we are, all of us, b'tzelem Elokim, made in G-d's image."
As part of the congregation's tribute to its youth, a one-of-a-kind chuppah is being designed and created by the shul's own master quilter and seamstress, Judi Solomont. The chuppah, which will be embroidered with the names of children, grandchildren and even great-grandchildren, will be used for the special children's aliyah during Simchat Torah services each year.
Members of the community are welcome to add names as well, noted Margie Robinow, this year's Purim Gala chair. "There are many Kansas Citians who can recall going to services with their bubbes and zaydes at BIAV. We hope they'll help us continue the tradition by making a donation to have their families' names embroidered on our children's chuppah."
Solomont explained, "We're using an oversized tallit that will cover the entire bimah, allowing for more children to be blessed. It will be very colorful, with different colored threads used to embroider names."
Solomont, who has been sewing since she was a child, added, "I learned on my grandmother's treadle sewing machine. Seven years ago I discovered machine embroidery and that has taken me in a new direction. Now I can not only make gifts, I can also personalize them with names and dates in Hebrew and English."
The design of the tallit will be unveiled at Purim Gala, which begins at 5 p.m. with cocktails, musical entertainment and a Chinese auction. An elegant kosher dinner follows at 6 p.m. This is the second year the Purim Gala is being held at Oakwood, site of the 2012 Gala that honored Todd Stettner, executive director of the Jewish Federation of Greater Kansas City. He is making the Mordechai Award presentation this year.
Tickets begin at $180 per person. Donations of $3,600, $5,000 and $10,000 include the full package of an ad, photo message and 10 tickets. To place a message in the journal, add names to the chuppah, or purchase tickets, call Barry Rubin in the BIAV office, 913-341-2444, email This email address is being protected from spambots. You need JavaScript enabled to view it. or visit www.biav.org/purimgala.