Local student participates in select Israel high school program
Published: Thursday, 10 January 2013 12:00
Written by Sybil Kaplan, Contributing Writer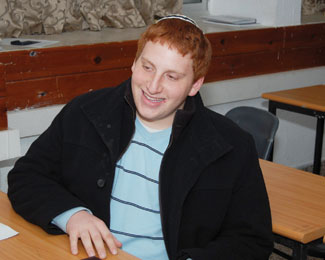 The excitement and enthusiasm in the voice and face of Joey Horak is very heart warming. The 16-year-old high school student is participating in Na'ale, an elite educational program in Israel.
His path to this program began while he was on an NCSY trip to Israel two summers ago. At that time Joey, the son of Congregation BIAV members Aliza Horak and Steve Horak, started to think about his future.
"It changed my perspective from playing football and wrestling to wanting to be in Israel," he said thoughtfully.
Just by chance his mother had learned about the Na'ale: High School Program in Israel, which formerly was for youngsters from South Africa, South America and Europe and was expanding to include American teenagers.
Up until now Joey has had a fairly typical American educational experience. He attended Hyman Brand Hebrew Academy from kindergarten through fifth grade, transferring to public school in sixth grade. He completed elementary school at Brookridge Elementary School, attended Indian Woods Middle School and Shawnee Mission South High School as a freshman and sophomore.
The Na'ale program in Israel interested Joey, so he traveled to Chicago for admissions testing. At the same time he made plans to visit Israel again this past summer on the NCSY Kollel six-week program. A program for boys only, it's described as an intense learning program as well as "world class sports and a full schedule of great trips."
"I realized on that trip that Israel is where I wanted to be," said Joey last month on a quick visit to Jerusalem.
While Joey was in Israel with NCSY, he learned he had been accepted to Na'ale. At the end of the summer he returned to Overland Park to see family and returned to Israel in the fall to start the program.
Na'ale is run by the Jewish Agency's Department of Immigration and Absorption. It offers youngsters who display academic excellence the opportunity to have a fully-subsidized three-year high school program in Israel.
Na'ale gives the students free transportation to and from Israel once, room and board, books and supplies and a monthly stipend. If students choose to return to their homes during the intervening summers, that transportation is at their expense.
The program is based on Kibbutz Shaalvim, which houses the Shaalvim educational campus comprised of a yeshiva, a kollel, a teachers' college, boys' and girls' high schools and an elementary school. It is located seven miles south of Modiin, four miles east of Gezer and 13 miles northwest of Jerusalem. Surrounding the campus is Nof Ayalon, an Orthodox community of 500 families.
Students in Joey's group include one from Germany, one from South Africa, one from South America, two from Mexico and several from the United States. They live three to a room in a dormitory and Joey's roommates are from Denver and South America.
At school, Joey gets up 6:30 a.m. He attends services, breakfast and then classes all through the day where the main focus is on Hebrew. (They have 17 hours of ulpan a week plus Judaic subjects.) They also have secular studies of mathematics, science and English. After dinner, there are additional programs.
Most of their free time is on weekends, although one evening a week they are also free.
"We usually go to Modiin to the movie theatre, the mall and the food court or for falafel and pizza," said Joey about his free time.
"My friends and I also go to Jerusalem (14 miles away) to the Kotel (Western Wall) or to hang out. The school can also set us up with families for Shabbat."
After three months, Joey said his Hebrew is pretty good.
"I can get around in Hebrew, and a lot of my friends are Israelis and we speak only Hebrew. My big problem is they often want to speak to me in English."
Reflecting on this experience so far, Joey said, "it's amazing that I can do high school in Israel, and learn Hebrew so quickly, and have Israeli friends, and be in a different culture, and experience what most people don't get to experience."
Joey is a sophomore in the Na'ale program and if he remains in it until he graduates, he will not be required to do anything. At this point, Joey doesn't know what his plans will be. But if he decides to stay in Israel, he will have several choices. He can attend either a hesder yeshiva (a yeshiva where they combine academic studies with army service), a regular yeshiva, or he can enlist in the Israeli army.