Listening Post
Published: Thursday, 06 December 2012 12:00
Written by Barbara Bayer, Editor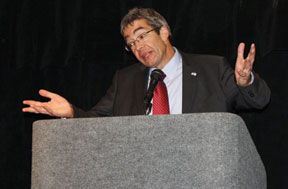 GIVING THE GIFT OF LIFE — The Maccabeats performed to a sold out crowd Sunday at the White Theatre. The a cappella men's group, which got its start as Yeshiva University's student vocal group, has partnered with the Gift of Life Bone Marrow Foundation since December 2011. The Hyman Brand Hebrew Academy coordinated a Bone Marrow Registry Drive during the concert, registering 36 concert-goers as prospective donors. If you didn't get a chance to register, or would like to help in another way, it was announced that it takes $60 to process each swab, and there's a huge backlog of swabs to be processed due to lack of funds. To donate, or for more information, visit www.giftoflife.org.

CHANUKAH ART CONTEST WINNERS — This is supposed to be the week that the winners of the annual Chanukah Art Contest were announced. However, we needed an extra week to do the judging, so the winning names will be announced in the Dec. 13 edition.

A SPECIAL CHANUKAH — While many of us will be filling our homes with light and joy on the sixth night of Chanukah, Rabbi Shmuly Yanklowitz of Kehilath Israel Synagogue will be in Washington, D.C. He has been invited to attend a special Chanukah celebration at the White House with President Barack Obama on Thursday, Dec. 13. This is the third time he's been invited and the second time he will actually celebrate the holiday in the White House. We're looking forward to seeing a photo and learning more about it in a few weeks.

JCC PARTNERS WITH THEATRE IN THE PARK — Glancing over the announcement of the 2013 Theatre in the Park season I noticed that the outdoor theater and the Jewish Community Center will jointly produce "Hairspray." The play will be produced at the JCC July 13-28 and then move to Shawnee Mission Park the next two weekends beginning Aug. 2. Krista Blackwood, director of cultural arts at the JCC said, "This partnership kicks off what we hope will be a long-standing collaborative relationship with TTIP. We're thrilled to be working with the great team out at the Park." This is the second major announcement the JCC has made regarding its productions in recent weeks. Read more about the JCC obtaining the rights to be the first to locally produce "Les Miserables" on page 23.

STUDENT OF RELATIONSHIPS — BIAV'S Rabbi Dani Rockoff is participating in a comprehensive "Rabbinic Marriage Counseling" course that aims to develop communal rabbis' skills and techniques in assisting couples through every stage of a relationship — from dating and marriage to crisis, death and divorce. The brand-new program is sponsored by Yeshiva University's Center for the Jewish Future and the Rabbi Isaac Elchanan Rabbinical Theological Seminary.