Kosher food coming to KU in 2013
Published: Friday, 23 November 2012 12:00
Written by Barbara Bayer, Editor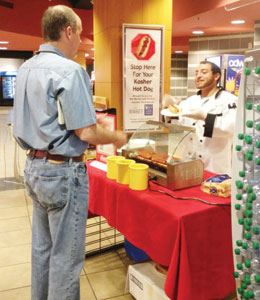 Students who eat at the University of Kansas' Mrs E's dining hall will be able to eat kosher food beginning in the fall of 2013. Mrs. E's is located at Lewis Hall on Daisy Hill and serves approximately 3,500 students daily. Any student with a dining plan may eat at Mrs. E's.
Rabbi Zalman Tiechtel, director of the Rohr Chabad Center for Jewish Life, also known more simply as KU Chabad, is "very excited" about this news.
"In the past KU has tried to accommodate students who wanted to eat kosher foods with MREs (pre-prepared meals) ... but there's nothing like having a fresh, kosher meal available. It changes their entire college experience."
Jay Lewis, executive director of KU Hillel, reports that there are between 1,500 and 2,000 Jewish students enrolled at KU. The undergraduate enrollment at the Lawrence campus is estimated to be 19,000 students.
The time is ripe to add kosher food because Mrs. E's is being renovated this summer. Sheryl Kidwell, assistant director of KU Dining Services, said other options will be added in the fall of 2013 as well including halal (for those who follow Islamic dietary guidelines) as well as those who request gluten-free and vegan-vegetarian items.
"Plans are definitely in place to add kosher food to Mrs. E's," Kidwell said. "We just don't have specific menus in place yet."
Kidwell is meeting with Rabbi Tiechtel as well as the president of the Muslim Student Association president, for assistance with recipes and ideas that will please students.
"Now that it is looking like more of a reality I think we can talk a little more seriously with Rabbi Zalman and get ideas and suggestions from him," she said.
Rabbi Tiechtel noted he has been working with the university to provide kosher food "for a very long time, since 2007."
"There are a lot of variables involved, obviously. Throughout the past few years every time we talked about it we always tried to bring it a few inches closer because this takes a long time," he said.
KU's Kidwell said the renovated area inside Mrs. E's will be self-contained. It will have all of its own equipment — utensils, refrigeration, freezer, a little bit of dry storage, microwave, flat-top grill, gas range, hot and cold pans and a dishwasher.
"Our hope is when you invest that much money in a concept that it can be more things to more people. It's hard to say how many of our students on our dining plans would benefit from this station," she said.
"We want it to be not only for our students that would choose halal and kosher and that kind of ethnic diet, but would also appeal to students that are on special diets. … That's our challenge right now."
It was about this time last year that a kosher hot dog stand opened at Allen Fieldhouse. Earlier this semester another kosher stand opened at the Kansas Union.
"We had a big breakthrough with having the kosher stand in retail dining," Rabbi Tiechtel said. "We really wanted to make some kind of difference in the residential dining as well, and that's what Mrs. E's is all about."
Last year the kosher stand at Allen Fieldhouse served only hotdogs. Now it sells a variety of items. The kosher stand at the Kansas Union has also proven to be very popular.
"The Wednesday kosher stand is open from 10:30 to 1:30 and every single week we have sold beyond expectation. We are talking about an average week serving over 120 people in a three-hour slot. We first projected maybe selling 40 to 60 hotdogs a week. Now were talking about over 100 on average. There were weeks we have sold out. There were two weeks that we had to close it, so now we know to have reserves," Rabbi Tiechtel explained.
Next semester Rabbi Tiechtel hopes the kosher stand at the Kansas Union will be expanded.
"We're talking about not only increasing it to two or three times a week, but maybe adding additional foods as well. A lot of it is about logistics because kosher is so sensitive. Not only do you have to have kosher food you have to have separate serving areas and on campus that is prime real estate. It's very hard to get that space and KU has been very accommodating to make it work."
The rabbi said they are taking baby steps when it comes to kosher food on campus.
"The more things work and the more the response is as great as it has been, the easier to take it to the next level," he said.
Naismith Hall, which is a private dorm that has a large percentage of Jewish residents, is also not a kosher facility. However Chabad has worked with the dorm over the years to supply such things as matzah for Passover to its residents.
"Right now they are very accommodating when it comes to offering holiday foods," Rabbi Tiechtel said. "But as far as kosher per se, it's something that's in the pipeline … but it's a business model as opposed to KU's service model."