| | | | |
| --- | --- | --- | --- |
| New Jewish-style deli has big city feel | | | |
Written by Beth Lipoff, Contributing Writer
Wednesday, August 08 2012 10:26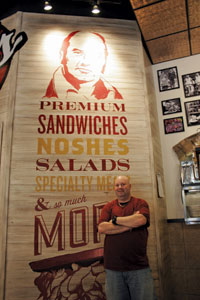 Old family photos adorn each wall of Marv's Delicatessen, but the décor isn't what makes the restaurant in Leawood's Park Place unique. This delicatessen's specialty is kosher-style food.
Lokshen kugel, corned beef sandwiches, knishes — it's all on the menu. But Marv isn't the one running the show here. Steve Kerner named his new restaurant after his late father, Marv Kerner, who was an investor in a deli in Chicago when Steve was growing up.
"We'd go to the deli every day as kids, even before school," Kerner said.
He decided on the deli's name because his father was a major influence on him in terms of food and restaurants. Also, "he was a big deli fan," Kerner said. "I think he'd be super proud. It would remind him of good memories of the family at the table at the deli."
His mom has taken an interest in the restaurant as well.
"She calls every day and asks if we're using seltzer water in the matzah ball mix," he said.
Kerner, who also founded Ingredient, has lived in Kansas City for 20 years and has also cooked at many different fancy hotels in his career, including the Ritz Carleton and the Four Seasons. He calls Marv's a "big city deli."
"My roots are in Chicago, but we have New York deli undertones," he said. "We tried to create a big city feel, like it's been here awhile. Everyone has the memory of their grandma and how she cooked. We want to recapture that."
There are a few items with pork on the menu, but the salami, bologna and hot dogs are strictly beef. Vienna Beef is one of Kerner's big suppliers. So far, corned beef and pastrami are the most popular items on the menu. For those with a sweet tooth, the deli also serves milkshakes, phosphates and root beer floats.
Kerner prides himself on the variety of items the deli makes fresh, including knishes, kugel, blintzes and kreplach.
"It's kind of unusual (fare), but we sell a fair amount of it," he said.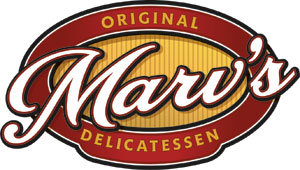 He picked the Park Place development at 115th Street and Nall Avenue because "it's in the sweet spot for the Jewish community but also has heavy lunch traffic. It's the epicenter of the Jewish Community Center, two big temples and Village Shalom."
Since the restaurant opened at the end of June, Kerner said business has been good.
"We've gotten very positive feedback on creating something that's missing in the Kansas City market. (The community is) really behind us," he said. "(The goal is) to create a place where families can come and schmooze with friends and enjoy the traditional cuisine they grew up on."
The deli will cater events, and starting Aug. 18, it will also serve brunch on Saturday and Sunday. Special items for that will include matzah brei and salami with eggs.
Ultimately, Kerner would like to open additional locations, but for now he's "making this the best deli it can possibly be," he said.
Marv's Deli, 11554 Ash, is open Monday through Saturday, 7 a.m. to 9 p.m. and Sunday, 7 a.m. to 8 p.m. Menus are available at www.marvsdelicatessen.com