Kyle Gold Bar Mitzvah
Published: Wednesday, 01 August 2012 12:30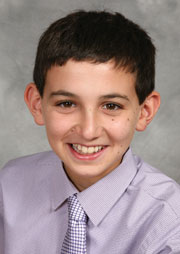 Mitchell and Lori Gold announce the Bar Mitzvah of their son, Kyle Michael Gold, at 9 a.m. Saturday, Aug. 11, at Kehilath Israel Synagogue.
Kyle is the grandson of Stuart and Mindy Gold, La Jolla, Calif., and Herb and Idie Parmet, Leawood.
Relatives and friends are invited to worship with the family and to attend the Kiddush following the service.