| | | | |
| --- | --- | --- | --- |
| Vaad set to host KC's inaugural Kosher BBQ Festival | | | |
Written by Barbara Bayer, Editor
Wednesday, August 01 2012 10:08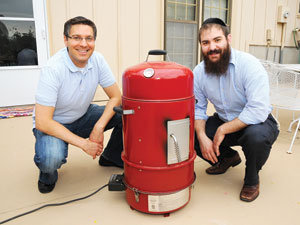 Kansas City is a barbecue town. There are more than 100 barbecue restaurants in the metro area and a slew of sanctioned contests including the granddaddy of them all, the American Royal. But none of those contests are kosher.
For the very first time there will be a kosher barbecue contest here. The Vaad HaKashruth of Kansas City is sponsoring the Kansas City Kosher BBQ Festival and Competition Sunday, Aug. 19, at The Temple, Congregation B'nai Jehudah. (For more information, see below.)
The idea began brewing late last summer after BIAV's Rabbi Daniel Rockoff and Vaad board member Marty Rosenberg learned about a kosher barbecue competition in Memphis. Rosenberg's son, Eli Rosenberg, a television reporter for ABC-24 news in Memphis, served as a judge at that competition.
"I can't remember how and when we decided to actually sponsor a kosher barbecue competition, but we all thought it would be something neat to do here, since we are one of the barbecue capitols of the world," said Rabbi Mendel Segal, the Vaad's executive director.
The Vaad's board, Rabbi Segal said, thought such an event would be something "really, really great for the Vaad to do."
"One of our major goals is to have a successful event to promote kosher food and be a place where people who keep strict kosher can go with their friends and bring the whole Jewish community together," Rabbi Segal said.
Such an event is also good for the Vaad's image.
"We've gone through a lot of changes over the past two years and this would really be a good way to re-brand ourselves and get ourselves out in front of the community and try to set a structure to be able to fundraise in the future," he said.
It's been a lot of hard work for the Vaad, comprised of all volunteers except for Rabbi Segal. They set out to establish rules, recruit teams and plan a family-friendly event that would appeal to the entire Kansas City Jewish Community.

The competition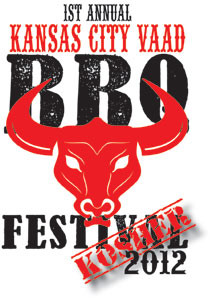 The event is still a couple of weeks away, but the Vaad already met one of its goals: to recruit a minimum of 15 teams.
"We've got representatives from all over the place, which is really neat," Rabbi Segal said.
In fact 16 teams will compete. Most of the competitors are local and those teams include Red Hot Orbits; STP BBQ-Smoked to Perfection; Three Jokers and a Smoker; The Instigators; Kollel Kulinary; Three Brothers BBQ; Kosher on a Budget; Decapitated Barbie-Que; In Control; Rayah Neehoah, Cholesterol Shmorlesterol and CBS Queens of Que. Another team, TLC Holy Smokers is composed of residents from Overland Park and Morisstown, N.J. Three other teams are traveling from out of town to compete: Village Green LLC (Louisville, Ky.); Farbreng It (Highland Park, Ill.); and Northern Smoke (Brookline, Mass).
Trophies will be awarded to the first-, second- and third-place winners in three categories: brisket, beef ribs and chicken. A trophy will also be awarded to the overall grand champion.
The Vaad is strictly supervising the food and all equipment used in the competition.
"Each team will make their own rubs and sauces and marinades," Rabbi Segal said, with the certified ingredients.
The judging panel is not yet complete but it includes a panel of experts, most of whom are not Jewish. In addition, the Vaad has found a way to include local clergy in the judging. For a fee of $360, "that's only 10, 36-dollar contributions," Rabbi Segal said, a member of a congregation's clergy staff may judge. So far Rabbis Daniel Rockoff (BIAV) and Herbert Mandl (Kehilath Israel), the Vaad's Rav Hamachshir and chairman respectively, will serve as judges as well as B'nai Jehudah's Rabbi Arthur Nemitoff and Beth Shalom's Rabbi David Glickman.

No entrance fee

The Kosher BBQ Festival is free and open to the public. Fees were charged for competitors and vendors.
"We would like for this to be a fundraiser in the future, but for now are happy to cover our costs," explained Rabbi Segal.
"We've gotten some sponsorships and donations to help defray the costs," he continued.
The event is free because, Rabbi Segal said, the Vaad really wanted to encourage as many people as possible to attend.
"Even though this would be a way to generate some extra income, we figured it would be better, at least this time, to just encourage people to come," he said.

Kosher food

All the equipment being used by the competitors is brand new; supplied by the Vaad and paid for by the competitors' fees. Even though B'nai Jehudah is a Reform congregation that doesn't have a kosher facility, that doesn't matter because the event is being held outdoors.
"We were looking for a place that had a great outdoor area at a good location and Rabbi Alexandria Shuval-Weiner suggested B'nai Jehudah. The congregation's board discussed it and decided to let us use their space," Rabbi Segal said.
As is typical with barbecue competitions, teams may not sell any food, drink or other items during the event. But barbecue will be available for sale, smoked by Steve Ellenberg. Other food, including hot dogs, chips, watermelon and drinks will be sold as well.
Rabbi Segal believes many people will be interested in purchasing smoked meats such as whole smoked briskets, sliced smoked briskets and slabs of beef ribs. Zadie's seasoning (Roasted Garlic Italian, Hickory BBQ, Cajun BBQ, Mexican, Lemon Pepper) can also be pre-ordered as well as special kosher Jack's Stack Original BBQ Sauce. All preorders may be picked up at the festival and may be paid for by credit card or check.
Adding to the festival atmosphere will be children's activities, a concert from Sheldon Low and hot dog and pickle eating contests.
Kosher BBQ Festival schedule of events
The Kansas City Kosher BBQ Festival and Competition will be held from 11:30 a.m. to 4:30 p.m. Sunday, Aug. 19, at The Temple, Congregation B'nai Jehudah, 12320 Nall Avenue in Overland Park.
There is no entrance fee. However, the Vaad suggests bringing two cans of healthy food per person to be donated to food charities. There is a fee for concessions. The live music and kosher pickle-eating contest are also free.
The festival will be as cashless as possible. Credit and debit card payments will be accepted with email receipts available. Cash and checks will be accepted as well, but the Vaad prefers not to accept cash at this event.
Parking is free. Outside food and beverages cannot be brought inside the event, which will take place rain or shine. Pets will not be allowed on the grounds.

• 11:30 a.m.
Kid Zone opens (and remains open until 3:30 p.m.)
Food concessions open and will remain open until 4:30 p.m.
Registration opens: Kosher Pickle Eating Contest and KC Kosher Co-op Hot Dog Eating Contest

• Noon
Live entertainment begins featuring: Klezmer Music by Gregory Sandomirsky, associate concertmaster emeritus at the Kansas City Symphony.
BBQ judging begins

• 12:30 p.m.
Kosher Pickle Eating Contest (youth and adult)

• 1 p.m.
Live performance by Sheldon Low

• 2 p.m.
Hot Dog Eating Contest (youth and adult)

• 3 p.m.
All winners announced: best chicken, best ribs, best brisket, and grand champion