| | | | |
| --- | --- | --- | --- |
| Jewish Employment Services helps Bryan Schmutz meet job success | | | |
Written by Ruth Baum Bigus, Contributing Writer
Wednesday, August 01 2012 09:29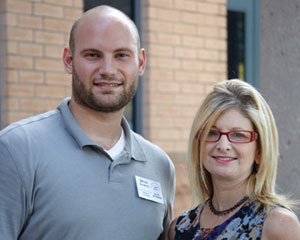 Like many job seekers, Bryan Schmutz had tried the usual routes to land a position. A December 2011 graduate of Washburn University with a degree in mass media, Schmutz moved back to Kansas City to begin his job search in earnest. He placed his resume on various Internet sites, went to job fairs and did informational interviews with professionals in the field.
"I explored as many avenues as I could find because you never know where that job is going to come from," he said.
Weeks and weeks went by without Schmutz landing a job.
"A lot of what was on my resume and what I was getting calls on wasn't what I was interested in," he said.
Then a friend suggested Schmutz check out Jewish Employment Services, a joint program of Jewish Family Services and Jewish Vocational Service. JES helps participants make connections in the job market and search for existing employment opportunities. Specifically, the program offers assistance in numerous ways — career assessment, resume development, individualized and group coaching, interviewing and networking skills, job search strategies and making direct connections to jobs. The JES team is led by Gayl Reinsch along with career coaches Cari Boasberg and Joyce Hill. Their goal is always the same — help people get jobs. That's just what happened for Schmutz.
"I met with Cari Boasberg who worked with me on my resume, cover letter writing techniques and interviewing skills. She helped me discover skills I had but wasn't aware of," Schmutz said. "We did mock interviewing in our coaching sessions and she really helped me improve my answers."
It was JES that connected Schmutz to his current position, that of marketing coordinator for the Jewish Community Center of Greater Kansas City. He serves as project manager and account coordinator to support the JCC's marketing department's internal "clients." These include the fitness and sports department, CDC preschool, summer camp, the Heritage Center and cultural arts, as well as Jewish Life and Learning. The JCC's marketing department designs more than 800 individual posters, brochures and other materials annually; Schmutz is responsible for getting the projects completed accurately, on time and to meet and exceed clients' expectations. In addition, he is the JCC's webmaster, in which he maintains its website.
Boasberg said Schmutz was very open to suggestions she made regarding his job search.
"Bryan expressed frustration with the amount of attention his resume had been receiving," Boasberg said. "He was very open to changing the format and wording on his resume. You could see the excitement on his face as his new resume came together."
Interviewing skills was another area in which Schmutz felt he needed to practice.
"Mock interviews during coaching sessions really helped Bryan realize how he could improve his responses and succinctly outline how he was the best candidate for the position. Overall he was eager to learn and improve — and he did," Boasberg said.
Schmutz's supervisor, JCC Marketing Director Stu Goldstein, said JES helped him land the right candidate for the job.
"Bryan has been a very good hire for us," Goldstein said. "At first, I was rather reluctant to interview someone with limited experience, but Cari Boasberg at Jewish Employment Services convinced me to think differently, and I'm glad she did. Bryan has established a great working relationship with the teams we support and is quickly developing a reputation for delivering high quality work. He's become a significant asset to my department."
Schmutz is thrilled he's using his training in a position he likes. He said JES and its staff played a large role in his successful job search.
"They knew what I was looking for and knew if something would be good fit," he said. "It was very helpful and very relevant."
If you would like assistance with your job search, contact JES at This e-mail address is being protected from spambots. You need JavaScript enabled to view it or 913-327-8278, or visit the JFS web site at www.jfskc.org/jes.