Wednesday, July 25 2012 10:44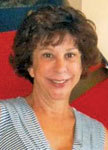 Jody Elyachar, 58, of Harrison, N.Y., Sarasota, Fla., and formerly of Leawood, passed away on Tuesday, July 3, after a challenging and brave eight-month struggle against cancer. A private service for family and friends was held on Friday, July 6, in Westchester County, N.Y.
Jody was born in Scarsdale, N.Y., graduated from Scarsdale High School, and attended Tulane University. While in her 30s, she was employed by Gourmet Magazine as the assistant to the chief editor in charge of travel and entertainment. At the time she left Gourmet, she supervised a large team of employees.
Jody is survived by her loving husband, Richard A. Katz, Esq., who was her devoted partner for 14 years and her caregiver throughout her illness. She is also survived by her beloved parents, Ralph and Alice Elyachar, of Scarsdale, N.Y.; her sister and brother-in-law, Dana and Peter Stahl and their children, of Katonah, N.Y.; as well as aunts, uncles and cousins in New York City and the surrounding area. She will be greatly missed by her beloved Cavalier King Charles Spaniel, Mazel.
Among her Kansas City area relatives who loved Jody and miss her are her sister-in-law, Andrea Elyachar and her partner Susan Herrin; her nephews, Joseph and Michael Elyachar; her first cousins, David Elyachar, Ann Elyachar, Matthew Elyachar and his wife Gloria, Adam Elyachar and his wife Stephanie; and her cousins' children, Abigale, Isaac, Jacob, Aaron, Jonah and Sarah.
Jody was a generous and loving family member and friend. One of her greatest joys was shopping to find the perfect gift for those she loved. She had an unparalleled flair for fashion and design, which was evident throughout the two exquisite homes she decorated with great care while living in Leawood and then in New York. She enjoyed traveling in and outside the United States and always brought back souvenirs and photos of her trips to share. We will all miss the beautiful, hand-written cards that she sent for all occasions and her telephone messages that always began with, "Hello, this is Jody Elyachar ..." All who were fortunate enough to know Jody, understand the phrase "one of a kind," was meant for her. She is gone too soon from our lives, but never from our hearts and minds.
A special thanks is given to Jody and Richard's wonderful friends, Gary and Patti Friedman of Leawood, for their loving support during her illness.
Anyone wishing to make a donation in Jody's memory may do so to the Humane Society of Greater Kansas City, 5445 Parallel Parkway, Kansas City, KS 66103, 913-596-1000, or a charity of your choice.