Written by Barbara Bayer, Editor
Wednesday, July 25 2012 09:39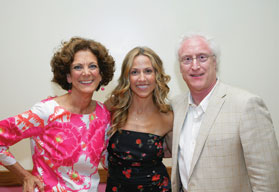 TOO HOT TO SHMOOZE — With temperatures constantly over 100,  more often than not lately, it must be too hot for loyal readers and PR professionals to schmooze right now.  Since we don't have any traditional Listening Post items, we're sharing Olympic tidbits this week.  Enjoy.

IOC holds surprise minute of silence for 1972 Munich massacre
(JNS.org) — The International Olympic Committee (IOC) held a minute of silence in the London Olympic village Monday to mark the 40th anniversary of the Palestinian terrorist group Black September's murder of 11 Israeli team members at the 1972 Munich Games.
"The 11 victims of the Munich tragedy... came to Munich in the spirit of peace and solidarity. We owe it to them to keep that spirit alive and to remember them... As the event of 40 years ago reminds us, sport is not immune from, and cannot cure, all the ills of the world," said IOC President Jacques Rogge, according to the Jerusalem Post.
The impromptu minute of silence was a surprise because Rogge had previously said the Munich massacre would not be commemorated at this summer's London Games. Changing course, Rogge said Monday that the 11 victims deserved to be remembered.
This is the first time that the IOC has marked the massacre in an Olympic village. Sebastian Coe, chairman of the London Olympics organizing committee, London Mayor Boris Johnson, Culture Secretary Jeremy Hunt and several other IOC officials attended the commemoration.

Israeli college, despite no sports facilities, produces four Olympians
(JNS.org) — The Interdisciplinary Center (IDC) in Herzliya does not have any athletic facilities on its college campus, but still managed to produce four students and graduates who are members of the Israeli team at this summer's London Olympics.
IDC Olympians include law school graduate and business student Arik Zeevi, a 2004 bronze medalist in Judoka at the Athens Olympics; psychology student Alice Schlesinger, who also competes in Judoka; sailor Vered Buskila, an IDC law school graduate; and champion high jumper Danielle Frenkel, a law and business student whose knee injury will prevent her from competing in London.
The IDC's athletic director is Ilan Kowalsky, head coach of the Israel's national women's basketball team (under 20).

Good sports? Iran says it will compete with Israelis at Olympics
(JNS.org) — Iranian athletes will compete against Israelis at the upcoming London Olympics, Secretary General of the Iranian Olympic Committee and Chef de Mission Bahram Afsharzadeh announced on Monday, Israel Hayom reported.
"We will be truthful to sport," Afsharzadeh said. "We just follow the sportsmanship and play every country."
Afsharzadeh spoke in the athletes' village after signing the "truce wall," a UN-backed initiative calling on warring parties around the world to end hostilities during the period of the games. "In sport and in Olympics, all the countries must [be] together with the teams in friendship," Afsharzadeh said. "Solidarity for all the countries is very important."
Tehran has been criticized in the past because some of its athletes withdrew from events against Israelis at the 2004 Athens and 2008 Beijing Games.

Sportscaster Bob Costas to recognize slain Israeli athletes at Olympics
(JNS.org) — Responding to the International Olympic Committee's refusal to hold a moment of silence at this summer's London games on the 40th anniversary of 11 Israeli team members killed by Palestinian terrorists in Munich, sportscaster Bob Costas said he will recognize the Israelis when he covers the Olympics for NBC.
"I intend to note that the IOC denied the request," Costas told The Hollywood Reporter. "Many people find that denial more than puzzling but insensitive. Here's a minute of silence right now."