Missouri candidate says no Jews died in 9/11 WTC bombing
Published: Wednesday, 18 July 2012 16:00
Written by Barbara Bayer, Editor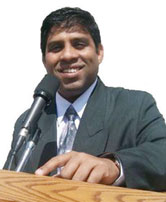 A candidate for secretary of state in Missouri has stated that no Jews died in the World Trade Center on 9/11 and alleged that Jews were involved in that attack.
MD Rabbi Alam's comments — he is one of two candidates in the Missouri Democratic primary for secretary of state slated for Aug. 7 — were first uncovered by Washington Free Beacon on Tuesday, July 10. The Free Beacon describes itself as an online newspaper dedicated "to uncovering the stories that the professional left hopes will never see the light of day."
Alam's comments were brought to The Chronicle's attention by a reader and a short article published by JTA, The Chronicle's national news service.
JTA referred to the Free Beacon story, which reported Alam said he stood by 9/11 conspiracy theories that he had espoused in early 2009.
JTA continued to report that Alam, in an interview, stated his belief in the "fact" that no Jews were killed in the World Trade Center on 9/11 and that the commercial airliners could not have been solely responsible for the collapse of the buildings.
The Free Beacon reported that Alam, a Muslim who was born in Bangladesh, has "trafficked in anti-Semitic conspiracy theories."
U.S. State Department officials told the Free Beacon that between 200 and 400 Jews died in the World Trade Center on Sept. 11, 2001; five Israeli citizens also were killed.
JTA also reported the Vos Iz Neias (VIN) website wrote that Rabbi Yair Hoffman, reporting for the website, contacted Alam and presented him with information that showed Jews were killed in the attack. Rabbi Hoffman also put him in touch with people who personally knew Jewish 9/11 victims.
Alam "offered his apologies and explained that he had been convinced by the material he had read on the Internet regarding the issue," VIN reported.
But, VIN added, later in the interview Alam "still expressed some conspiracy thinking about the World Trade Center bombings."
Alam's comments reported by the Free Beacon and VIN also made the news in Israel, being reported on the www.IsraelNationalNews.com website also known as Arutz Sheva, a media network that calls itself "the only independent national radio station in Israel."
Karen Aroesty, the Anti-Defamation League's regional director for Missouri and Southern Illinois, noted that as a 501(c)(3) organization, ADL cannot get involved in election politics. She has, however, read the various news accounts regarding Alam's statements.
"While we acknowledge that he has apologized for previously-held inaccuracies about 9/11 — we are still concerned that he holds onto and formally expresses anti-Semitic conspiracy theories about the tragic events of the day. To the extent that he attended the event of an extremist (Sheikh Khalid Yasin) who holds anti-Semitic, anti-Christian and conspiratorial views, it is disturbing that he would even attend the event of such a figure," Aroesty said.
Alam is running in the Democratic primary against Jason Kander, who is Jewish. Both candidates list Kansas City as their residence. Also running for secretary of state in Missouri are Republicans Scott Rupp of Wentzville, Shane Schoeller of Bolivar and Bill Stouffer of Marshall. Cisse W. Spragins of Kansas City is running as a Libertarian candidate and Justin Harter of Columbia is a Constitution candidate.
Alam's website lists him as a satellite campaign manager for Obama and the Democratic Party in the Kansas City area during the 2008 presidential election. He is the state chairman of the Missouri Democratic Party Asian American Caucus, as well as its founder and also serves as the national chairman of the U.S. National Democratic Party Asian American Caucus. He is an educator and a veteran of the U.S. Army.