| | | | |
| --- | --- | --- | --- |
| Kansas Citian to get birds-eye Olympic view in London | | | |
Written by Barbara Bayer, Editor
Wednesday, July 18 2012 10:25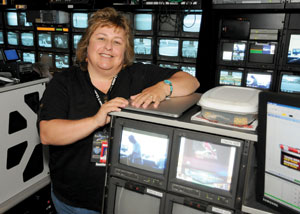 There may not be any Jewish athletes from Kansas City competing in the Summer Olympic Games that open Friday, July 27, in London but the local Jewish community will still be represented there by an Olympic veteran. Lisa Settles was hired once again by the Olympic Broadcast Services, which is a part of the International Olympic Committee, as a member of the broadcast crew that will provide television coverage to countries all over the world.
The first Olympics Settles worked was the 1988 summer games in Seoul and the 2012 Summer Olympic Games will be her eighth Olympics. She is a graphics operator and will be working at the wrestling competitions — freestyle for men and women and Greco-Roman for men. She worked at Olympic wrestling events twice before in Atlanta and Australia.
Settles' job is to provide the words you see on the screen such as names and statistics.
"Basically any words that you see on the screen that's not the score, that's what I do during a game," Settles explained.
She's often too busy to actually get to watch the competition.
"I'm listening to a statistician, my assistant, the director, the producer and the announcers and we're trying to tell the story of the game and what's happening with graphics," Settles explained.
During the year she mainly works football, basketball and baseball games, but she's also worked some soccer and a little hockey.
"For the last seven years I've even worked the national spelling bee for ESPN. That's a blast," she said.
The size of the broadcast determines how many people provide graphics for a game. For instance if it's a local network showing a baseball or basketball game, Settles explained there is usually only one graphics person working. If it's an NFL game, there are often two graphics people.
"Super Bowls, World Series, All Star games, finals of anything … generally there are two people doing that job," she said.
Settles works as a freelancer, meaning she is hired specifically for each event she works and doesn't just work for one station or network. Sometimes she works here in town, but she also spends a good amount of time traveling to sporting events across the country.
Settles is a sports fan and attended many different events — including track, gymnastics, cycling and boxing — at that first Olympics in Seoul. She even saw diver Greg Louganis win two gold medals.
Now more than 20 years later, she has different priorities when she's in an Olympic city.
"Now it's all about seeing the country," said Settles, who has actually been to London twice before — once working the Wimbledon tennis championships and once while a participant of the 1975 Pilgrimage to Israel.
"It would be nice to see Buckingham Palace and Big Ben," she said. "It's been many years since I've been there and I'd just like to get reacquainted with London and see what's different about it."
Settles' career has given her the opportunity to travel the world. She stayed in the United States for Olympics in Atlanta (summer 1996) and Salt Lake City (winter 2002). She's been to Seoul, Korea (1988); Sydney, Australia (summer 2000); Athens, Greece (summer 2004); Beijing, China (summer 2008), and Turin, Italy (winter 2006).
Her favorite country?
"By far it's Australia," she said. "I had always wanted to visit there. I worked the crew during the U.S. basketball team's exhibition tour there before the actual games started and traveled to different cities in Australia for five weeks. I just loved it. The people were just awesome. I'd go back there in a second."
Running close behind Australia in her list of global favorites is Beijing.
"The Chinese were much more friendly and warmer than I think I expected or most Americans would expect," she said. "In China I remember walking through one of the neighborhoods. It was a very poor neighborhood and it was very hot there. People were sitting on the steps trying to get cool. I said hello to them in Chinese and their faces just lit up and I didn't feel uncomfortable anymore. I tried to make a connection and they appreciated it."
Whenever Settles travels to another country, she makes it a point to learn how to say hello, thank you and your welcome in their native tongues.
"I try to use it as much as I can. I've learned if you at least do that much, the people have a completely different attitude toward you and try to be helpful. It's just awesome," Settles said.
Settles really enjoyed walking on the Great Wall of China.
"I never thought I would do that," she said.
Members of the media, Settles explained, do not stay in the Olympic Village with the athletes. Instead they either stay in a media village or a hotel. Since days off are few and far between for Settles during an Olympics, she will "forego some sleep" to actually see the country.
"I like to see things the country is famous for, be it museums or architectural things. I like to wander through the neighborhoods to see what life is really like and try the local food," she said.
While she's at the Olympics she will try to find some interesting souvenirs.
"I'm picky. I like to get things that are unique to the country," she said. "When I was in Australia I bought a lot of Aboriginie prints because you're not going to find Aboriginie prints very often in the United States.