Wednesday, July 11 2012 14:50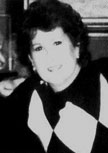 JoAnn "Jody" Chambers Mackler, 86, of Phoenix, peacefully passed away on Tuesday, July 3, 2012.
Jody was born Oct. 28, 1925, the only daughter of five children to Jess and Goldie Chambers of Kansas City, Mo. Jody took great pride in volunteer work for the blind in Kansas City. She moved to Phoenix in 1988, where she was a loyal employee of Suzanne's Gift Shop at The Biltmore Shopping Center for 14 years.
Jody was preceded in death by Harry Mackler, her loving husband of 40 years.
She is survived by her brother, Richard "Dick" Chambers, and sister-in-law Yonako; nephew, James Chambers, and wife Dee; nieces, Catherine Gaede, Lauren Miller and her husband Jerry and family, Barbara and Eddie Brooks and family and Jeannie and Marion Nickels and family; great-nephew, Alex Chambers; great-niece, Franny and Kyle Hollingshead; and cousin, Joe Levin.
Jody will be missed for her loving caring ways for her family and friends and her beautiful smile that could light up a room.
The family suggests donations to Desert Oasis Hospice, 20815 N. 25th Place, A106, Phoenix, AZ 85050.