When dementia comes calling
Published: Thursday, 05 July 2012 12:00
Written by Andrea Kempf, Contributing Reviewer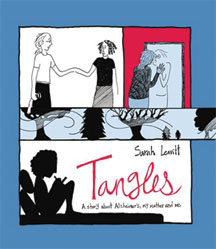 "Tangles: A Story about Alzheimer's, My Mother and Me," by Sarah Leavitt. (Skyhorse Publishing 2012)

Graphic novels are not always novels and certainly no longer comic books. The authors/illustrators deal with serious questions and in the case of "Tangles" the issue is the tragedy of dementia in a mother who is not that old. Midge Leavitt was only 52 when she began forgetting. Two years later, Midge and her family received the diagnosis of early-onset Alzheimer's disease. In this moving memoir of her own mother's life and particularly her last six years, Sarah Leavitt literally draws a picture of a happy family whose life becomes tangled up in the care of a woman who is no longer the person she used to be.
The Leavitts lived in Fredericton, New Brunswick, Canada, while Sarah had settled in Vancouver. On a visit home, Sarah realized that something was terribly wrong. Midge left an iron burning and went out into the garden. Her mother couldn't remember directions to places she had regularly visited. With all these signs, Sarah, her sister Hannah and the rest of the family finally convinced her father and mother to see a neurologist. The results were shattering.
Leavitt kept a journal during her mother's illness. In the resulting book she draws each step of her mother's mental disintegration with unsettling clarity. The initially serene Midge, a formerly award-winning kindergarten teacher, takes on the face of a worried woman, then an angry one and then a puzzled one. Sarah portrays herself as a daughter trying to be a caregiver, but desperately wanting her own caregiver back. There's a scene in which Sarah, in Vancouver, tries to have a conversation with her mother. Midge is complaining that people are treating her like a child. They talk for a while, Sarah tries to comfort her mother, Midge hangs up, and Sarah throws herself on the floor screaming, "I want my Mommy." Leavitt has perfectly captured the pain of being the caregiver for a parent who was only recently herself the caregiver.
After her mother's death, Sarah, a non-observant Jew from a left-leaning non-observant Jewish family, regains her clarity by writing and drawing the story of her mother's illness. She also finds herself by saying Kaddish for the entire proscribed 11 months in order to remain close to Midge and to remember all the wonderful things about her.
"Tangles" may be the first graphic novel to explore the tragedy of a family dealing with Alzheimer's disease. Its impact on the reader is intense, unsettling and in the end beautiful. This work is moving, sad and yet celebratory of Midge's life. Anyone who has undertaken the care of a family member with dementia will relate to Sarah's anguish and love. People who, fortunately, have not dealt with these issues will learn a great deal. Sarah Leavitt is following in the footsteps of Art Spiegelman, addressing the issues of our times in graphic literature.

Andrea Kempf is a retired librarian who speaks throughout the community on various topics related to books and reading.