Wednesday, June 13 2012 12:58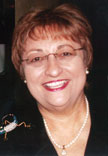 Madeline Kapel Chapman passed away unexpectedly on Friday, June 8, 2012, at her home.
Madeline was born on Nov. 24, 1940, in New York City, the daughter of Murray and Charlotte Kapel. As a young child, she moved with her family to St. Joseph, Mo., where she spent her childhood. She graduated from St. Joseph Central High School and attended the University of Missouri.
On Dec. 17, 1967, Madeline married her childhood friend, Paul, in Kansas City, Mo. Throughout her children's school age years, Madeline was a very active member of the PTA, a Cub Scout Den Mother, an active supporter of the B'nai Brith Youth Organization, and instrumental in the development of the Maccabi youth sports program at the Jewish Community Center.
As her children grew, Madeline returned to work, taking on a number of positions, including time as a bookkeeper for a local swimsuit store in Overland Park and as an administrative assistant at the New York Bakery in Kansas City, Mo. Madeline retired in 2002, enabling her to spend time traveling with friends and family and to spend more time with her children and grandchildren, who live in New York and California.
She is a current member of Congregation Beth Torah and previously belonged to Temple Beth El, where she and her family were active members. She was a member of B'nai Brith Women, the National Council of Jewish Women and the Women's Symphony Organization, and enjoyed gardening, theater and travel.
Madeline will be remembered by all who knew her for the extraordinary love she showered on her family and for her caring personality that always put the needs of others above her own. Her easy smile, her determination to keep the family connected across the miles and her grandmotherly hugs will be truly missed.
She was preceded in death by her parents.
She is survived by her husband of 44 years, Paul, and two sons, Mark and his wife, Vicki, of Roslyn, Long Island, N.Y., and Ryan and his wife, Danielle, of San Juan Capistrano, Calif., as well as five grandchildren. She also is survived by her sister and brother-in-law, Barbara and Ron Blumenthal of Chicago; brother-in-law and sister-in-law, Alan and Tina Chapman, of Leawood; and sister-in-law and brother-in-law, Nancy and Steve Kargman of Scottsdale, Ariz., as well as many nieces, nephews and cousins scattered across the country.
Funeral services were held Monday, June 11, at Louis Memorial Chapel, with interment at the Beth Torah section of Mount Moriah Cemetery.
The family recommends contributions to Congregation Beth Torah, 6100 W. 127th Street, Overland Park, KS 66209; (www.beth-torah.org), Harvesters, 3801 Topping Avenue, Kansas City, MO 64129 (www.harvesters.org); the Susan B. Komen Foundation, P.O. Box 650309, Dallas, TX 75265-0309 (www.komen.org), or a charity of one's choice.
Online condolences can be made at www.louisemorialchapel.com.
Arr: The Louis Memorial Chapel, 816-361-5211.