Wednesday, June 13 2012 11:05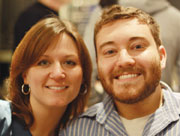 Drs. Neal and Michelle Deutch announce the engagement of their son, Samuel Loren Deutch, to Charity Laine Barnum, daughter of Dale and Pamela Barnum, Ozawkie, Kan.
The bride-to-be is the granddaughter of Thelma Wineinger and the late Dwayne Wineinger. She attended Oklahoma State University and the University of Central Oklahoma, earning a bachelor's degree in psychology and a Master of Arts degree in psychology. She is currently employed with SRS of Kansas as a vocational rehabilitation counselor.
The future groom is the grandson of Charlene Hecht and the late Allen Hecht and the late Anne and Al Deutch. He attended the University of Kansas, earning a master's degree in counseling psychology. He is currently employed as a vocational rehabilitation counselor in Overland Park.
A June 2013 wedding at Congregation Ohev Sholom is planned.
Last Updated on Wednesday, June 20 2012 08:51