| | | | |
| --- | --- | --- | --- |
| Leawood student awarded Bronfman Youth Fellowship | | | |
Wednesday, June 13 2012 10:57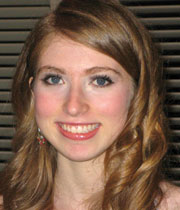 For the 26th consecutive year, The Bronfman Youth Fellowships in Israel has selected a group of 26 high school students to be Bronfman Fellows. Jessi Glueck, daughter of Dr. Robert and Miriam Glueck, of Leawood is one of the 26.
Jessi is a junior at Blue Valley North High School and a member of Kehilath Israel Synagogue. She is editor of her school newspaper and vice president of her school's chapter of Future Business Leaders of America. Jessi is a passionate writer with several national awards.
The Bronfman Fellows participate in an intensive five-week program of study, travel and extensive programming in Israel designed to develop future community leaders committed to Jewish unity. The program was founded by Edgar M. Bronfman.
Rabbi Mishael Zion, co-director, director of education of the Fellowship explains, "We have the privilege of working with young participants who are already leading in their communities. We, in turn, instill in them a love for learning Jewish texts, a commitment to pluralism, and a sense of social and Jewish responsibility."
Following a competitive application process, this year's Bronfman Fellows are from 12 states across the U.S. and Canada. They represent diverse Jewish backgrounds, including Orthodox, Conservative, Reform, Reconstructionist, unaffiliated and non-denominational.
Last Updated on Wednesday, June 13 2012 11:02