| | | | |
| --- | --- | --- | --- |
| Helzberg book encourages mentor relationships | | | |
Written by Barbara Bayer, Editor
Wednesday, June 13 2012 10:07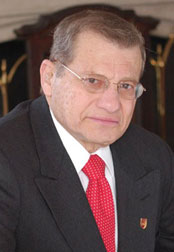 Barnett C. Helzberg Jr. was fortunate to have a mentor, and a famous Kansas City businessman at that. That mentor was Ewing Marion Kauffman, affectionately known as Mr. K, the founder of Marion Laboratories and owner of the Kansas City Royals.
Helzberg and Mr. K maintained a mentoring relationship for 23 years, until he passed away almost 20 years ago. One day, Helzberg thanked Mr. K for his help and support and Mr. K replied, "That's okay, you'll help someone someday."
Indeed he has. In the preface of his new book, "Entrepreneurs + Mentors = Success: 22 Convincing Stories" (Rockhill Books, 2012, written along with Deborah Shouse), Helzberg writes that Mr. K's comment certainly helped inspire the creation of the Helzberg Entrepreneurial Mentoring Program (HEMP). That program, in turn, spurred the publication of this book.
"The purpose of this book," he writes" is to encourage entrepreneurs (who are open to mentoring) to select a mentor and also become a part of a networking group. It may also encourage the startup of entrepreneurial mentoring programs."
Helzberg owned and operated Helzberg Diamonds, working in the family business for 39 years before selling it to Warren Buffett's Berkshire Hathaway in 1995. That same year he founded HEMP. HEMP matches seasoned, successful entrepreneur mentors with less-experienced entrepreneur mentees. HEMP is dedicated to strengthening entrepreneurial leaders through excellence in mentoring.
The book includes the stories of 22 of Helzberg-described HEMP heroes. The mentee stories show exactly what the mentees, and their businesses, gained from the HEMP program. In one case, the mentee-mentor relationship went so well (after a somewhat rocky start), the couple married after the official HEMP relationship ended.
"When we started this program someone said we should document it. We put these stories in a book to show people how it works," Helzberg said.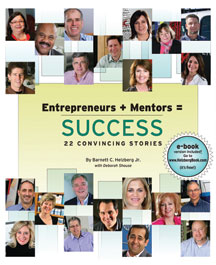 Readers will recognize the names of many members of the Jewish community mentioned in the book. At least two Jewish mentees, Joe Lieberman and Missy Love, have their stories featured.
Helzberg is such a believer in the mentoring process that he wrote the book simply to "spread the gospel of mentoring" and promote mentor programs in general.
"I'm not trying to make money," he said. "The real deal is promoting networking and peer mentoring."
The book will sell for $14.95 and will be available at a variety of book outlets. He said an online version will sell for 99 cents. Those who purchase the hard copy of the book will also get a free version of the ebook. Proceeds from the book will benefit HEMP.
Helzberg also hopes the book will be used at colleges that have entrepreneurship programs.
"The goal of the book is to convince people that mentors can help and want to help," said Helzberg, who has also written "What I Learned Before I Sold to Warren Buffett: An Entrepreneur's Guide to Developing a Highly Successful Company," and co-authored "I Am Loved," with his wife, Shirley Bush Helzberg.
Over the years he's learned that mentors want to help others and love and enjoy doing it.
"You'll read how these mentors and HEMP have saved businesses. It's created employment," Helzberg said.
The HEMP program, Helzberg reports, is full. He said he's been a "stick in the mud" about expanding the program because he would like it to stay workable. It's grown over the years to include about 160 people now.
"Originally we said it was a three-year program. Then we found that we couldn't get rid of the alumni. They wouldn't leave. So we have fellows. They participate, they come to meetings, they contribute financially. It's been a great experience for me," he said.
Helzberg said through HEMP he's met a lot of people he never would have known.
"I was in one business for 39 years, now I would say I'm in 40 businesses," he said.
Surprisingly, he said he doesn't believe he himself is a good mentor.
"I'm a mentee. I don't even volunteer to be a mentor anymore. This started not because I'm a mentor but because I'm a mentee," he said.
While he's not an official mentor, Helzberg is always available to speak to any mentee who has a challenge.
"I love being that kind of a mentor," he said.
Another thing he enjoys about his involvement with HEMP is attending small lunches with mentees known as Lunch with the Big Guy.
"I was the smallest kid in class all my life but now I'm the Big Guy," said Helzberg, who is taking a sabbatical this year from teaching at Rockhurst University.
Because of a "code of confidentiality" that goes hand-in-hand with the Lunch with the Big Guy program, he said the attendees have really learned a lot about each other.
"We agree nothing goes out of the room without permission, so the HEMPers really open up. Basically there's been no breach. These lunches are six to eight people …. We've heard some amazing stories, good and bad," he recalled.
He often shares with others what he believes is the best advice he received from Mr. K.
"Most people tell you pay as little as possible. I would go to (Mr. K) and actually talk about payroll and we would enjoy raising salaries. That's not the attitude of most business people. It made me think I wasn't an idiot. He had this attitude of sharing and I think that was really dramatic for me. He said 'share the wealth and enjoy doing it,' " Helzberg said.
KC Library book discussion features Helzberg, Kemper
No matter what the business problem, there's usually someone who's dealt with it before.
Over the last 17 years that philosophy has made a rousing success of the Helzberg Entrepreneurial Mentoring Program, which pairs up-and-coming men and women of business with veterans willing to share a lifetime of knowledge and insights.
Author and businessman Barnett C. Helzberg Jr. and Library Director Crosby Kemper III will hold a public conversation with some of the local entrepreneurs profiled in Helzberg's new book "Entrepreneurs + Mentors = Success: 22 Convincing Stories," at 6:30 p.m. Thursday, June 28, at the Kansas City Public Library, 14 W. 10th Street.
Admission is free. The event will be preceded by a 6 p.m. reception. RSVP online at kclibrary.org or call 816-701-3407.