Thursday, June 07 2012 09:25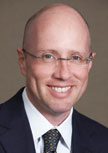 Todd Henry Epsten, 52, died Saturday, May 26, 2012, of brain cancer at his home in St. Louis.
Born in Kansas City, he relocated to St. Louis in 1988 with Major Brands, Missouri's largest liquor and beer distributor. He was the third generation of his family to run Major Brands, succeeding his father Robert Epsten and his grandfather Joseph Epsten before him.
He was a civic leader in St. Louis. In addition to his service on the police board, he had been chairman of Forest Park Forever Organization and served on the boards of the St. Louis Art Museum and St. Louis Science Center. He also served on the St. Louis Airport Commission and the Greater St. Louis Community Foundation, as vice chairman of the Regional Business Council, chairman emeritus of the Big Brothers Big Sisters of Eastern Missouri and on the boards of Central Reform Congregation and the Jewish Federation.
He was also a generous supporter of Kansas City causes, including Teach for America, the Kaufman Center and Village Shalom. Growing up in Kansas City he attended the Barstow School and was a member of The Temple, Congregation B'nai Jehudah. He was a graduate of American University in Washington.
Funeral services were held Monday, May 28, at Central Reform Congregation in St. Louis.
Among the survivors are his wife, Susan McCollum; two sons, Michael and Brian; his parents, Jacqueline and Robert Epsten of Kansas City; three sisters, Jane Girson and Jill Epsten, both of Kansas City, and Judith McLaughlin of St. Louis; and a brother, Brad Epsten, of Kansas City.
Donations in Todd's memory can be made to Big Brothers Big Sisters of Kansas City, 3908 Washington St., Kansas City, MO 64111.