Thursday, June 07 2012 08:53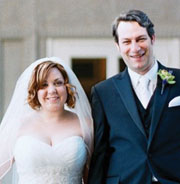 Kathryn and David Fehr of Chicago announce their marriage, which was held on March 24, 2012, at the President Hilton Hotel in Kansas City, Mo., with their family and friends in attendance.
Kathryn and David met while attending the University of Missouri at Kansas City Graduate School, where they both received their MFA degrees in 2008 and specialized in theater and acting.
The bride, 31, is the daughter of Nancy and David Bartholomew of Granger, Ind., and the groom, 37, the son of Stephanie and Donald Fehr of Rye Brook, N.Y., formally of Kansas City, Mo.
The bride is the granddaughter of late Dorothy and Alfred Bartholomew of Fort Wayne, Ind., and the late Janet and Wade Whitman of Hobart, Ind. The groom is the grandson of Irene (Dolly) Fehr, of Overland Park, and the late Louis A. Fehr, formally from Marion, Ind., and the late Sylvia Ruth Eveloff Feldman of Overland Park. The bride's father works at Keystone Logistics, and her mother works for Liberty Mutual Insurance in Indiana.
The groom's father is the executive director for the National Hockey League Players Association in Toronto and previous executive director of the Major League Baseball Players Association in New York. His mother works for the National PTA on the special needs committee, as well as consultant for the New York State Parent Teacher Association.
The couple will continue to live and work in Chicago after their honeymoon to Aruba. The bride works for the Jewish National Fund and is also the executive producer of Ka-Tet theater production company and the groom teaches at the Josephium Catholic Girls School, as well as acting and directing in various theater productions.
Those in attendance at the wedding came from more than 19 different states and countries to celebrate their wedding.
The attendants for the bride included: The man of honor, Sam Gaines, friend of the couple, New York City, formerly of Kansas City; Olivia Jacobson-Reighter, friend of the bride, Indiana; Rachel Fehr, sister of the groom, San Francisco, formerly of Rye Brook, N.Y.; and Elyse Fehr, sister of the groom of Rye Brook.
The attendants for the groom included: Dr. Mark L. Fehr, best man and brother of the groom, Naperville, Ill., formerly of Rye Brook; Mark Bartholomew, brother of the bride, Granger; Angela Cristellio, friend of the bridal couple, New York City, formerly from Kansas City, Mo. Tuba Fehr, sister-in-law of the groom, Naperville, formerly of Istanbul, was the bride's assistant and Alex Fehr, cousin of the groom, Lawrence, was the escort of the groom's grandmother, Irene Fehr, Overland Park.