| | | | |
| --- | --- | --- | --- |
| Devinki to be recognized for lifetime of dedication to K.I. | | | |
Written by Barbara Bayer, Editor
Thursday, June 07 2012 08:33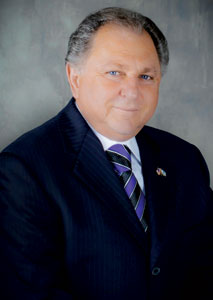 Sam Devinki's photo will soon be displayed in a prominent spot on the wall at Kehilath Israel Synagogue. That's because K.I.'s board of directors decided to recognize him for a lifetime of work on behalf of the congregation by bestowing upon him the title of honorary president for life. Two other men have also been given that honor by K.I. — the late Morten Brown and the late Sherman W. Dreiseszun.
The congregation will officially give Devinki the honorary title at Shabbat services on Saturday, June 9. A Kiddush hosted by the Devinki, Kolkin and Pack families will follow services.
K.I.'s Rabbi Herbert Mandl said Devinki developed his "feel" for Judaism and Kehilath Israel Synagogue from both his parents, the late Fred and Maria Devinki.
"He has inherited not only his parents' business sense but also Maria's big heart and sense of generosity," Rabbi Mandl said. "This honor could not be bestowed on anyone more deserving than Sam for a lifetime of commitment and love to our synagogue."
K.I. President Steve Osman said Devinki's mantra is always what is best for the synagogue.
"Sam is big at leading by example. It is not personal honors he seeks when he donates money. Instead he is demonstrating to others that they should engage in tzedakah by showing them the path he has taken. If he is recognized for an achievement, he hopes that may prompt others to follow his lead," Osman said.
Devinki said he is incredibly honored to have his name associated with both Brown and Dreiseszun.
"These two guys were icons. They are the guys that kept the synagogue alive in good times and bad over the last 70 years. To have my name considered in the same class as theirs is a big honor, it really is," Devinki said.
Many would also say Devinki has done a lot to keep the synagogue going over the past 40 years while serving on the board and during two different terms as president — in 1985-86 and again in 2010.
"Whenever there has been a crisis or a need in the synagogue, Sam is there to solve the problem. Sam not only writes a check to fill in the gap when there is one, but he will work whatever project he is needed for at any time," Rabbi Mandl pointed out in the congregation's May newsletter.
Devinki's roots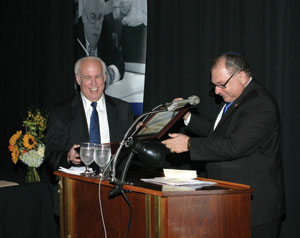 Devinki was born in Ragensberg, Germany, in a displaced persons camp. He and his parents moved to Kansas City in 1950 when he was 4 years old. As they settled into life in Kansas City, the Devinkis joined a local synagogue. But when Devinki was 5 and it was time for him to begin Hebrew school, his parents couldn't quite afford all the costs associated with that religious education. That's when K.I.'s Rabbi Maurice Solomon stepped in.
"He told them to come to K.I., and not to worry about what it costs. 'You can pay what you can,' he said. As they say, the rest of the story is history. That was in 1951," Devinki said.
As time went on, Fred and Maria Devinki developed a very personal relationship with Rabbi Maurice and Betty Solomon.
"They were very close. Rabbi Solomon would come to our house to eat," Devinki said.
Devinki said his parents were devoted to the synagogue, because they "felt like KI was there for them when they needed it." His own devotion to K.I. is also very personal.
"K.I. was my second home. It was the only other place that I did anything. SYO (the youth group) was my social life. Hebrew school was my educational life other than regular school. Everything I did in life that wasn't either business related or extended family related was related to K.I. My whole family went there and I had many friends there," he explained.
Giving back to the community, in Devinki's case to K.I., is a concept his parents encouraged him and his sisters — Karen Pack and Ida Kolkin — to do by setting a good example.
"They instilled in us tikkun olam, that you have to do for others. I have tried to follow that in my life and I find that every time that I do do something for somebody else, I really get paid back 10 fold. It sounds kind of corny but it's true. I believe it," he said.

A dedicated volunteer

The list of projects Devinki has initiated or been a part of at K.I. is extensive. But two hold a special place in his heart. The first is Grand Givers, a program he created in 1977.
"Though laughed at for the concept by many of the past presidents, this program has gone on to be the most successful fundraiser in the history of the synagogue," Rabbi Mandl said.
Devinki came up with the Grand Givers concept because he literally felt the need for something grand. He noticed that previous fundraisers, such as a Las Vegas night, took a lot of time and effort to plan and execute, yet they only netted about $10,000.
His idea was to sell $100 raffle tickets. He proposed getting 10 people to commit to personally buying and/or selling 10 tickets each. If he was successful in that endeavor, $40,000 would be raised. The raffle winner would receive a brand new car. In 1977 it was a gold Cadillac Eldorado which, Devinki said, Roach Cadillac sold them for an incredible deal of $8,900.
Devinki said he first shared his Grand Givers idea with his mother.
"She told me I was nuts," Devinki said.
He said he believed in the theory that if he got one guy to agree to it, then others would follow his lead.
"The first guy I went to was Abbott Sher," Devinki said. "Once I had Abbott, I knew I could get Marty Brown, because they were best friends … it's a domino effect."
That very first year Devinki said Grand Givers earned a little more than its $40,000 goal. Anywhere from 300 to 600 people attend the event annually. Over the years it has been tweaked a little. For instance, they no longer give away a car because vehicles today are just too expensive.
"Now we give $10,000 cash as the grand prize," Devinki said.
Grand Givers was Devinki's idea, but he quickly credits others for their hard work on the project. For instance he said Dreiseszun became the fundraiser's biggest supporter, always bringing in "$40,000 to $50,000 worth of tickets every year by himself."
Always the salesperson, Devinki notes that this year's Grand Givers is scheduled for Nov. 17 and will feature Rodeo Drive, "a wonderful couple from California who have beautiful voices."
Over the past 36 years, Devinki estimates Grand Givers has raised, after expenses, more than $3.5 million.
"I think it's the one thing I've done that's done the most for the stabilization of the synagogue," he said.
Devinki, who Rabbi Mandl said was the congregation's youngest ever board member (he was 23 or 24 and still in law school) was also the congregation's second youngest president. Dreiseszun was 37 years old when he became president. Devinki was 38.
About 15 years ago, Devinki also developed the concept of Tri-Chai, a program where members would contribute $5,400 a year, part of which would be over their normal dues.
"Every synagogue has dues levels and dues at our synagogue are based upon ability to pay, but there are some people who can pay more," said Devinki, explaining how he came up with the concept.
Rabbi Mandl notes that, "an elite group of individuals has also helped sustain our financial stability."
Devinki said at the time the concept was developed, it increased K.I.'s budget about 10 percent, "which is a substantial number."
"Over the years the Tri-Chais haven't increased as much as I would like but we still have 25 to 30 Tri-Chais in the congregation. I think that's nice that these people are willing to voluntarily pay more than they are required to pay," he said.
Even though Devinki is no longer president, he estimates he spends about two hours a day doing things for the synagogue. It's something he still enjoys, and he appreciates the others who also give their time to the congregation.
"Running a synagogue is not an easy thing. That's why all those people I've mentioned, and so many others, were incredibly devoted guys," Devinki said. "It takes incredible devotion and I credit all these guys for the work that they've done over the years."
Working for K.I. simply makes Devinki feel good.
"It makes me feel good about myself and that's why it's fun to do," he said. "I love what they call the art of the deal, that's a Donald Trump term, but I love seeing things develop and grow and come to fruition. When I work for the synagogue, I see things happen. I enjoy that."