| | | | |
| --- | --- | --- | --- |
| CDC's Kotel will enhance education, fundraising | | | |
Written by Bryon Ginsburg, Special to The Chronicle
Wednesday, June 06 2012 14:56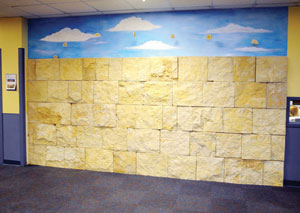 Just as King Herod commissioned the Western Wall as part of a Temple renovation in 37 BCE, the Child Development Center at the Jewish Community Center now has a commemorative wall of its own, enriching its first expansion in more than 20 years.
A stunning representation of the Western Wall was just completed, and will appear alongside school upgrades that will boost student capacity from 175 to 225, a leap of nearly 30 percent. To further connect children and families to this international treasure, CDC parents were recently invited to become a Friend of the Kotel for $360. This contribution allows for names of family members to be designated on individual stone plaquettes above the wall.
Complementing the CDC's educational mission, the wall replica measures more than 6 feet tall by 15 feet wide. Envisioned by a team led by CDC Director Maxine Benson, the project has been greeted with excitement and anticipation by CDC students and faculty.
"The Kotel in the CDC has long been a dream," Benson said. "With all of the other exciting changes, this is the perfect time to turn the dream into reality. It's the inspiration for a new Judaic curriculum that includes the learning areas of social studies, science, math, literature, music and art, and will add another level of excellence to the CDC early childhood experience."
Teacher Linda Rubin said the wall can take the children back in time.
"It will be a wonderful follow-up to the discussions we have about Israel. We can use our senses to see and feel the wall and pretend that we are in Jerusalem while smelling and tasting Israeli foods. How wonderful for our children to be able to imagine what it is like to be in front of the Kotel in Jerusalem," Rubin said.
To insure the replica wall's authenticity, the CDC turned construction over to local resident and Israeli native Sam Nachum.
Together with his son, Ben, Sam has imported and installed Jerusalem Stone from Israel at residential and commercial projects since 1995.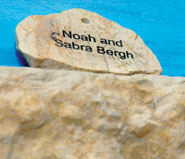 The CDC's wall originated as white stone from Hebron. From that supply 55 individual stones were crafted, many nearly 18 feet by 18 feet and weighing about 40 pounds.
According to Ben Nachum, the craftsmen at Jerusalem Stone chose a specific section from the actual Kotel, and then used old-world techniques including chiseling and sandblasting to duplicate the original's unique contours and textures. Each stone is expertly fitted together — and like the original wall — provides crevices in which to insert handwritten notes.
Adhering to such traditions will only enhance the learning experiences planned for the children.
"The beauty of the Jerusalem stone is a joy to the eyes. The Kotel will become an integral part of our holiday celebrations and the backdrop for Shabbat and Havdallah," Benson said.
The addition of the wall adds a new educational dimension to the CDC.
"The wall will not only enhance our Judaic curriculum, but will be an effective tool to teach concepts of shape, size and other math concepts. The children can replicate the wall using a variety of materials," noted teachers Julie Gregory and Tanya Hadzhieva.
CDC students are already enjoying its presence at the facility.
"It is important for people to pray to God for peace, love and family," said 5-year-old Noah Bergh, a recent CDC "graduate."
Anyone can become a Friend of the Kotel and designate a stone plaquette for $360. Alumni and others whose families have benefited from a CDC education or relationship are especially encouraged to be a part of this permanent landmark, said Jacob Schreiber, JCC executive director. Pictures and progress of the Kotel project can be viewed at facebook.com/JCCChildDevelopmentCenter.
CDC enhancements are scheduled for completion in time for the next school year in August and will help alleviate the annual enrollment waiting list. For more information, go to jcckc.org, click on the Youth and Family tab, and then click on Child Development Center.