National Day of Prayer excludes non-Christians
Published: Thursday, 10 May 2012 12:00
Written by Barbara Bayer, Editor
At least one event connected with the National Day of Prayer in Kansas Thursday, May 3, in Topeka excluded Jewish people. In fact, according to a story published in the Topeka Capital-Journal, no non-Christian groups were represented at the event, held on the on the steps of the Kansas capitol and featuring Kansas Gov. Sam Brownback as master of ceremonies.
The event was organized by a group called the Capitol Commission, a national non-profit devoted to "Reaching Capitol Communities for Christ." According to the Capital-Journal article, Brownback urged Kansans to "beseech God through prayer to help us in our time of need" through the "economic, fiscal, social and moral" crises the state faces.
Prayers were given by a variety of Christian religious leaders and legislators and students from Christian school sang songs.
Rabbi Debbie Stiel, who has served Topeka's Temple Beth Sholom since 2006, said she wasn't even aware of the event until a newspaper reporter called her for a comment. While researching it, she learned that the mission of the National Day of Prayer Task Force is to mobilize prayer in America and to encourage personal repentance and righteousness in the culture.
According to its website, the National Day of Prayer is an annual observance held on the first Thursday of May, inviting people of all faiths to pray for the nation. It was created in 1952 by a joint resolution of the United States Congress, and signed into law by President Harry S. Truman. The task force is a privately funded organization.
The task force's mission worries Rabbi Stiel.
"If you go online and look at the National Day of Prayer organization, you'll see its vision is preserving the national Christian heritage and fostering unity within the Christian community. That is how these kinds of things so easily become very focused in a particular religious direction as opposed to open to all religions. This is why as Jews we're so concerned about programs like this and so adamant about separation of church and state," Rabbi Stiel said.
The separation of church and state is an issue that concerns Marvin Szneler, executive director of the Jewish Community Relations Bureau|American Jewish Committee, as well as the fact that this particular event did not appear to be open and welcoming to all faiths.
"An event featuring prayer, in the best of circumstances, is non-sectarian and welcoming to all and even then is in some tension with the bedrock American principle that religion is not the business of government. When a conscious effort is not made to be non-sectarian, events like these are particularly problematic. I was not in attendance, but from reports I have heard, the atmosphere at this National Day of Prayer was Christian of a particular kind, and others were not included and felt unwelcome," Szneler said.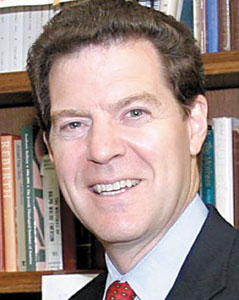 The JCRB|AJC greatly values Brownback's passionate support for the state of Israel, Szneler added. In addition he pointed out that the governor has been a strong advocate on many issues of importance to the Jewish community.
"However, we do not always agree with every elected official on every issue, and strong support for some issues does not immunize them from us sharing our concerns on other issues," Szneler said.
"Today, prayer events are common. But when not non-sectarian, they cause particular concern regarding the separation of church and state and what the U.S. Supreme Court has labeled its most fundamental principle — that all faiths must be treated equally by government," Szneler continued.
Rabbi Stiel also believes it is wrong for the governor to participate in these types of prayer events.
"If there's a group that wants to go off on their own time and do that sort of thing, that's one thing, but to say that's representing Kansas and for the governor to be involved in it, I think that's wrong," she said.
Brownback is very open about his Christian beliefs. He attended, reportedly at his own expense, "The Response: A Call To Prayer for a Nation in Crisis" in Houston in August 2011 at the invitation of Texas Gov. Rick Perry. He read two passages from the Bible, Matthew 5:3-16 and 2nd Corinthians 7:13-14, and offered a prayer that day.
Once again noting that she didn't attend the prayer event in Topeka, Rabbi Stiel pointed out that she believes there was definitely a Christian bent to it.
"It was not interfaith in who was invited and it was not inclusive in its language," she said.
In fact, Rabbi Stiel believes that under this governor's administration, "there is definitely an attempt to bring Christianity more and more into the state's legislation and beliefs."
Rabbi Stiel said she isn't sure whether the National Day of Prayer took place at the capitol before Brownback became governor. She does believe that there was more separation of church and state under Gov. Kathleen Sebelius' administration.
"When she was inaugurated as governor, I was asked to be a part of the prayer service. I mentioned that I was a bit uncomfortable with that because I really think that prayer should be separate from government. She came up to me afterwards and said she agreed and appreciated my words. I'm sure if it did happen, it was not with the same very narrow focus that this administration has," Rabbi Stiel said.
Rabbi Stiel pointed out that Kansas legislative sessions always open with prayer. She is asked to give that prayer "very occasionally."
"I know in the Senate, when they do not have a special chaplain, the regular chaplain always ends the prayer in Jesus' name. I know that he's been asked not to, but he does. That happens sometimes in the House as well," she said.
The governor has attended the Topeka Reform congregation's annual blintze brunch several times. This year, Rabbi Stiel said, he asked if he could  read a proclamation in support of Israel that he was making as governor.