Thursday, May 03 2012 11:00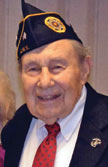 Robert (Bob) Friedman, 92, of Overland Park, passed away Sunday, April 29, 2012, at his home.
Funeral services were held Tuesday, May 1, at The Temple, Congregation B'nai Jehudah, with burial at Rose Hill Cemetery.
Bob was born June 2, 1919, in Kansas City and graduated from Paseo High School in 1936. After graduating, Bob obtained his civilian pilot's license from Municipal Airport and enlisted in the Naval Air Corps in 1942. During World War II, Bob was stationed in the South Pacific for 13 months, bravely flying 61 bombing missions. While on leave in July 1943, Bob married his sweetheart, Beverly. He was discharged as a Marine Corps captain in 1946. When he returned from his military service, he started his own furniture and appliance refinishing business.
Bob enjoyed bowling and fishing. With his remarkable energy, he continued to work and golf until recently. Bob was active with the Jewish War Veterans. He and Beverly were members of The Temple, Congregation B'nai Jehudah for more than 55 years.
Bob was preceded in death by his brother, Isadore Friedman.
He is survived by his wife of 68 years, Beverly; daughters Nancy (Allan) Reichman of Overland Park and Donna (Steve) Hess of Irvington, N.Y.; grandchildren, Mara (Mark) Lambert of Overland Park, Warren Hess of Elmsford, N,Y,, Michael Reichman of Boston, and Leah Hess of Boston; and siblings Marvin (Godeanne) Friedman, Jackie Frazin and Myra (David) Rieger, all of Denver, and Ted (Lana) Friedman of Peoria, Ariz.
Bob was beloved by all his family and friends. His warmth, smile and sense of humor will be greatly missed. To honor Bob's memory, the family suggests donations to The Temple, Congregation B'nai Jehudah, the Heritage Center of the Jewish Community Center, Saint Luke's Home Care and Hospice, or a charity of one's choice.
Online condolences may be shared at www.louismemorialchapel.com.
Arr: The Louis Memorial Chapel, 816-361-5211.