Written by Barbara Bayer, Editor
Thursday, May 03 2012 11:00
JEWISH HERITAGE MONTH — Did you know that May is Jewish Heritage Month? I had no idea but I can thank Manischewitz for enlightening me. Along with thousands (millions?) of others, I purchased the 5-pound box of matzah for Passover and there was a different fact about our Jewish heritage on each of the five boxes I opened. It turns out that Manischewitz is "proud to be the founding corporate sponsor of Jewish American Heritage Month. To learn more, visit www.jahm.us.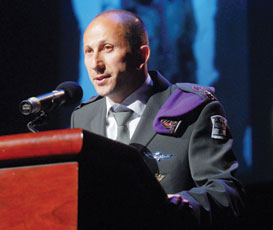 KUDOS FOR JOBS WELL DONE — Last week was a busy week, beginning with the annual Yom HaShoah commemoration, followed by Yom HaZikaron and Yom HaAtzmaut. The three organizations that produce Yom HaShoah — Midwest Center for Holocaust Education, Jewish Community Relations Bureau|American Jewish Committee and Jewish Community Center — have been doing it beautifully and flawlessly for years, as they did this year.
The Jewish Federation, however, faced a big challenge for Yom HaZikaron (Israel's memorial day) and Yom HaAtzmaut (Israeli Independence Day), when emissary Lilach Nissim returned to Israel to take care of health issues. Zohar Flacks, Omaha's former emissary, moved to Kansas City a couple of years ago and agreed to lead the effort for those two events and Lag b'Omer, which will take place May 10 at Gezer Park in Leawood. Flacks, the Federation staff and a host of dedicated volunteers pulled everything together and planned the two big events taking place only a day apart — one very moving and one very lively. We tip our hats to all!

LILACH UPDATE — For those of you who are wondering, Lilach Nissim is now on the mend at home in Israel. Doctors there finally got to the root of her health issues, and she is feeling much better, though still suffering from some amount of pain. She is looking for her next job, but wants to make sure it is a role where she can continue to help others less fortunate than herself. She has been deeply missed in Kansas City.

THE FANTASTICS — "The Fantastics," a show that has been described as romantic and nostalgic and laugh out loud funny, is being produced by Spinning Tree Theatre. It runs May 10-27 on Thursdays, Fridays and Saturdays at 8 p.m. and Sundays at 2 p.m. at Crown Center Off Center Theatre. Directed by Michael Grayman (who is Jewish) and Andy Parkhurst, the world's longest running production of any kind features a local cast and songs such as "Try to Remember," "They Were You," "Soon It's Gonna Rain," and much more. For tickets and information, call 816-842-9999     or visit www.spinningtreetheatre.com.