| | | | |
| --- | --- | --- | --- |
| Village Shalom employees' quick actions aid stricken toddler | | | |
Written by Linda Salvay, Special to The Chronicle
Thursday, April 26 2012 11:00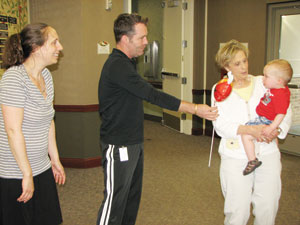 The words "toddler" and "retirement community" don't often appear in the same sentence. But it was one small child's good fortune to be visiting the Village Shalom retirement community with his grandmother on a recent afternoon. That, in combination with numerous other coincidences, may have helped to save his life.
Fifteen-month-old Garett Van Buskirk accompanied his grandmother, Bunni Glasberg, on a recent visit to Village Shalom. Glasberg had come for a meeting to plan details of an upcoming art opening at Village Shalom's Epsten Gallery. She often babysits for her grandson, and was certain he would play quietly while the brief meeting took place.
Instead, Garett was a bit fussy and wanted his grandmother to hold him the entire time, Glasberg recalled. When the meeting ended, she headed for the main entrance, still holding Garett. She stopped briefly at the reception desk to chat with a friend who had just entered the building. "If I hadn't stopped to talk to her," recounted Glasberg, "I would already have been in my car. Garett would have been in his car seat behind me — facing backwards — and I never would have known what happened."
As Glasberg stood in Village Shalom's lobby cradling Garett in her arms, the baby had a seizure that caused him to lose consciousness, start twitching and then stop breathing. While he had been running a low-grade fever earlier in the day, his mother, Melisa Van Buskirk, and Glasberg (Van Buskirk's mother) both attributed it to teething. They later learned it was the beginning of a double ear infection, and the seizure resulted from a sudden spike in the baby's fever.
At that same time in nearby Rachel's Café, a balance class for Village Shalom residents was under way. Rachel's Café is not normally a venue for fitness-related activities, but on this particular day the all-kosher restaurant was still closed to the public following the Passover holiday. The balance class was using the space temporarily because of unwelcome paint odors from repairs to the pool in the Spa & Wellness Center where the class typically meets. Spa & Wellness Center staff member Daniel Stoner, the balance-class instructor, had made a spur-of-the-moment decision to relocate the class.
Being within direct sight of the lobby during the class, Stoner noticed the emergency situation the instant it happened. And because he is certified in all modalities of cardiopulmonary resuscitation (CPR) and lifesaving, he approached the panicked grandmother at once to offer help. "I looked her in the eye and asked her, 'May I have the baby?'" Stoner said. Apparently reassured by his calm request, she complied. "When I took him, he started having convulsions. I put him down on the floor, and he stopped breathing at that point. I started CPR."
Simultaneously, Village Shalom's receptionist, Beth Miller, dialed 911. She also signaled a couple of nurse's aides to alert another employee, Redempta Kimani, a registered nurse, who was on duty in a nearby assisted-living area. Kimani quickly appeared and began to assist Stoner in administering CPR to the baby. "I continued the breathing," said Stoner, "while she did the chest compressions. We continued that until the EMS (emergency medical services) got there."
Besides being trained in CPR, Stoner said, he also happens to be a chaplain. He sensed the grandmother's intense distress in the situation, and asked her what the baby's name was. "I reminded her that hers is the only voice here that he recognizes, and if she would say his name, he would hear her and it would calm him." Stoner knew it would calm Glasberg as well.
Shortly thereafter, Garett was taken by ambulance to the emergency room at nearby Children's Mercy Hospital South. "The ER is only six months old," Glasberg later noted, citing another serendipitous circumstance boding well for Garett. She met up with her daughter at the hospital, where they learned that Garett was already recovering and would have no ill after-effects from the incident.
Two days later, a healthier and much happier Garett returned to Village Shalom with his mom, grandma and a cake decorated with Garett's picture — a small token of thanks to Village Shalom's employees for their calm and quick actions in an emergency.
"It was by the grace of God that I was here at Village Shalom when it all happened," Glasberg said. "Everyone was so caring and kind."
Stoner shared Glasberg's sentiments, adding his gratitude for his fellow employees. "We work as a team," he commented. "When the EMS left, Redempta and I hugged each other. It all ended happily. And there's even a cake!"