| | | | |
| --- | --- | --- | --- |
| 'Insightful' teen finds local Jewish community open and welcoming | | | |
Written by Beth Lipoff, Contributing Writer
Thursday, April 26 2012 11:00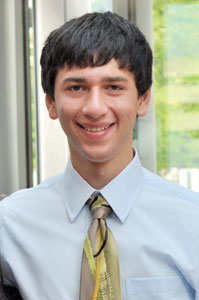 Seventeen-year-old Gavri Schreiber has achieved a lot in his life, but he's quick to credit the contributions of others for his success.
A junior at Blue Valley North, Gavri is the vice president of BBYO's Kansas City Council.
"I feel like I'm one of the senior members who's there to help kids," he said. "What I like about BBYO is that it's a cooperative effort. It's not one single person."
Gavri, a member of Congregation Beth Torah, tries to help BBYO internationally as a member of the BBYO International Leadership Network.
In addition to making a guide for starting new chapters, Gavri and his cohort in the network made a programming guide for BBYO chapters.
"I think those and other things are going to be helpful resources for everybody to help strengthen BBYO across the country," he said. "I was very fortunate to get selected (for the network); I feel like it's given me an opportunity to help people with BBYO outside of here in Kansas City."
Although he has only lived in Kansas City for three years, Gavri has also served as the Nordaunian chapter secretary and vice president. Gavri moved here with his parents, Jewish Community Center Executive Director Jacob Schreiber and Edna Levy, and his siblings from Atlanta in 2009.
"It was really tough to start. I didn't know very many people, and I was also transitioning from a Jewish middle school to a public high school," he said. "I think my family really helped me a lot, and the community was really welcoming. I kind of laid low for a bit (when I arrived) and relied on my family and the community, and that helped me transition."
One of his favorite programs with BBYO in Kansas City was a paintball event that raised money for brain cancer charities.
"I really think that the nice thing about the organization and the Jewish community is that people are really, really open and welcoming," he said. "People here are often able to put their egos aside, and I think that's what helps make the community strong. I feel like that's something that should be celebrated. I feel fortunate to work within this framework."
Gavri was also one the first four teens to participate in the JCC Recollections project, a program where teens speak with older members of the community about their life experiences.
"We each interviewed … a few people and created a video to get funding and support for Recollections, and once that happened, we contacted lots of our friends and expanded it," he said.
Gavri said the program has blossomed, with 20 teams of teens interviewing every Sunday.
"I give the credit to my dad. It was his vision that started Recollections. I'm lucky to be his son and be one of the people chosen to start the project," he said. "I enjoy listening to stories from older people and being put in a place where people can not only share their stories but their outlook and life and their advice and wisdom."
Howard Jacobson, former president of the JCC and the Jewish Federation of Kansas City, said he is impressed with Gavri.
"He's a very insightful young man," Jacobson said. "He understands what adults are saying. I teach classes at University of Missouri, and I don't get the same response from business students as I get from him."
Activism is also on Gavri's resume, an interest sparked by a trip to the Schusterman High School Summit for the American Israel Public Affairs Committee.
"At the summit, we learned a lot about the current issues facing Israel … It ended with us going to Capitol Hill and lobbing our congressmen," he said
At school, Gavri excels generally but made a particular mark when he won third place in desktop application programming at the Future Business Leaders of America's 2011 national competition.
Jacobson said Gavri's desire to help others will serve him well in the future.
"He does things all the time for other people, and he won't take credit for them. Parents say he is a great influence on their kids," Jacobson said. "He really is pushing people to do community service projects, but it's never 'I;' it's always 'we.'"