In this novel does anyone ever tell the truth?
Published: Thursday, 19 April 2012 12:00
Written by Andrea Kempf, Contributing Reviewer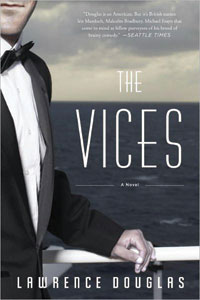 "The Vices," by Lawrence Douglas. (Other Press, 2011.)

The unreliable narrator is a standard device in fiction, and often in memoirs. In "The Vices," Lawrence Douglas' second novel and a runner-up for last year's National Jewish Book Award for fiction, everybody is distorting the truth. The unnamed narrator is a professor at a small liberal arts college in New England whose closest friend Oliver Vice is presumed dead, having disappeared from the Queen Mary II during a storm at sea.
Vice was a distinguished professor of philosophy. His mother Francizka Nagy, who was also on the ship, was the self-proclaimed daughter of Hungarian aristocrats who perished during World War II. No one knows if Oliver Vice jumped or fell accidentally. Therefore, our narrator decides to investigate the truth about the Vice family and use the information he uncovers to write his next novel
This very readable novel immediately engages the reader as our narrator describes his first meeting with Vice and demonstrates that our narrator has some truth issues of his own as well. Oliver and his twin brother Bartholomew refer to their father Victor Vice as the BF (birth father) of whom they claim to have no memories. Who was he, an art dealer with a shady past of something even more unsavory. Why does our unnamed narrator inflate his abilities and his own family's accomplishments? Where does Francizka's wealth come from? As the reader observes Oliver Vice attract one woman after another — including the narrator's wife — the novel spins along gathering speed and each character continues to conflate his or her background and abilities with those of friends, relatives and even casual bystanders.
The reader knows immediately that the narrator and his wife are Jewish, but while Oliver Vice has a terminally-ill former step-father who is also Jewish, the novel does not at first reveal its intrinsic Jewish nature. It will, however, become clear as our narrator continues to unearth the Vice family history that the Jewish nature of what he learns colors everyone's behavior. Then, when our narrator finally understands the pathologies that underlay the characters of Oliver, his brother, mother and family friends, writing a novel based on the Vices becomes an untenable task.
This elegant witty novel is a delight to read. The author is a professor of law at Amherst College whose first novel "The Catastrophist" also featured a protagonist who couldn't get it right. He has come to fiction late, but his novels are all the better for his maturity and in addition he also has a lovely sense of humor. I would seriously recommend this novel for book clubs.

Andrea Kempf is a retired librarian who speaks throughout the community on various topics related to books and reading.