Written by Barbara Bayer, Editor
Thursday, April 12 2012 11:00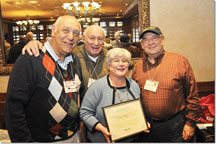 COLLEGIATE PASSOVER — We hear Jewish experts from all over the country tell us that young adults are not affiliating with the organized Jewish community. That may be true, but we know of at least two organizations on the University of Kansas campus that are working hard to keep college students interested in the religion and participating in the Jewish community and doing a darn good job of it. Both KU Hillel and The Rohr Chabad Center for Jewish Life held Passover seders last week for those who couldn't make it home or to a friend's home for seder. KU Hillel hosted 60 students at a second seder Saturday night. Chabad at KU hosted 70 people Friday and Saturday evenings for seders (though not all students). During this Passover week, Rabbi Zalman Tiechtel said another 20 to 30 students were expected to participate in a meal plan offered by Chabad and about 60 students are expected to attend a Shabbat/Passover meal tomorrow night. We know of other seders that were open to the community here in KC also, and we thank them all for providing this hospitality. But we especially applaud those who are working so hard to engage our next generation of leaders! Yasher koach!

MOURNING MIKE WALLACE — Like many journalists, we were saddened to hear about the death of Mike Wallace last weekend. Former Chronicle Editor Ruth Baum Bigus was lucky enough to snag the "60-Minutes" star for a telephone interview in 1990. At the time Wallace, who was born Myron Leon "Mike" Wallace to Russian Jewish immigrant parents in 1918, was promoting a special highlighting his 40-year career in journalism. He told Bigus that his favorite interview undoubtedly was Vladimir Horowitz, "… he was such a charmer and such a genius at what he did." Although Wallace hadn't been well enough to appear on "60 Minutes" in quite some time, we will indeed miss his presence.

HEADS UP FOR PLGA — The teachers and families of Beth Shalom's Rose Family Early Childhood Education Center are organizing a fundraiser for 3-year-old Finnegan O'Keefe, a student in the class taught by Miss Julie Kadosh and Miss Connie Simon. Finnegan was diagnosed with a PLGA (pediatric low grade astrocytoma brain stem tumor) in November 2011. Stefanie Williams, who has a child in Finnegan's class, said Finnegan's teachers knew they had to do something to help this sweet boy, so they decided to plan an amazing event that could help to raise the funds needed to find a cure and give him a future.
So the teachers at the Jewish preschool are planning a fundraiser to be held from 2 to 5 p.m. Sunday, April 29, at St. Michael the Archangel Catholic Parish located at 142nd and Nall Avenue. The HEADS UP for PLGA will benefit the PLGA Foundation. The afternoon will include lots of fun activities for small children, a silent auction and will feature local musicians Funky Mama, Mr. Stinky Feet, Dino O'Dell and the wacky duo Laughing Matters!!
Admission for children 3 and over will be $10, 2 and under are free. For more information, to make a donation or to become a sponsor, visit headsupforplga.shutterfly.com or Heads Up for PLGA on Facebook. In addition, "Team Fighting Finnegan" yellow bracelets are available in the preschool school office for $1!

FINDING YOUR ROOTS ON PBS — An hour-long episode of the new PBS series "Finding Your Roots with Henry Louis Gates Jr." scheduled to air Sunday, April 15, features Rabbi Angela Warnick Buchdahl, the senior cantor of New York City's Central Synagogue. Rabbi Buchdahl, who was born in Seoul, South Korea, to a Jewish American father and a Korean Buddhist mother, digs deeper into her mixed heritage and ancestry in the episode. The episode also features Pastor Rick Warren and Sheikh Yasir Qadhi. In it the "Finding Your Roots" research teams unearth a story about the spiritual foundations of America and the long, sometimes painful, struggle to achieve religious freedom and tolerance. The episode also uncovers the difficulties religious leaders and their ancestors experienced holding onto their faith while still feeling like an "authentic" American. The episode is scheduled to air locally at 7 p.m. Sunday, April 15, on KCPT.

QUALITY HILL REVUE TO DAZZLE AUDIENCES — Three exceptional actor/singers pay tribute to the musical team that has razzle dazzled audiences since the 1960s in the cabaret revue "Life Is a Cabaret: The Songs of Kander and Ebb," opening April 20 at Quality Hill Playhouse. Kansas City native Kander is Jewish and so was Ebb, who died in 2004. Their sleek, sexy and sophisticated style translated such gritty subjects as pre-Hitler Germany, decadent 1920s America and a prison cell in a South American police state into successful Broadway musicals ("Cabaret," 1966; "Chicago," 1975; "Kiss of the Spiderwoman," 1993; respectively). Director and arranger J. Kent Barnhart has designed the show to give audiences an appreciation of the duo's remarkable career by selecting material from across their five-decade partnership, including their first song written together ("My Coloring Book" in 1962); songs from their last projects together ("Steel Pier," 1997; "The Visit," 1999; "Chicago" (film), 2002); and many of their standards ("All That Jazz," "Maybe This Time," "Cabaret," "New York, New York"). Vocalists Stephanie Laws, Aurelie Roque and Tim Scott will be joined by Barnhart at the piano, Julian Goff on drums and Brian Wilson on bass for the revue's three dozen sizzling songs.
"Life Is a Cabaret" runs through May 20 at Quality Hill Playhouse, 303 W. 10th Street, Kansas City, Mo. For tickets, call 816-421-1700 or visit www.QualityHillPlayhouse.com.
CHEF WITH LOCAL TIES FEATURED — Israeli chef Moshe Basson, who has forged friendships with many members of Congregation Ohev Sholom and has appeared at KosherFest (which returns this year June 3), was featured in the March 30 edition of The Forward. The story, "Top Chef Forages for Ingredients and More: Moshe Basson Heads to Hills for Greens and Culinary History" can be found at: http://www.forward.com/articles/153527/top-chef-forages-for-ingredients-and-more/?p=all#ixzz1qu0xWQnj.
Last Updated on Wednesday, April 11 2012 15:37