Thursday, January 17 2013 12:00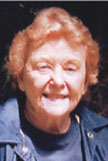 Shirley Lipco Baker, of Bakersfield, Calif. (formerly of Kansas City, Mo.), 86, died Dec. 21, 2012.
She was born Shirley B. Berman in Brooklyn, N.Y., on Oct. 22, 1926, to Morris and Anna Berman. Shirley's mother Anna and her large family emigrated from Russia and settled on the lower east side of Manhattan. Right after World War II, Shirley's family moved to Los Angeles and it was there that she met and married Marvin Lipco, whose uncle Eli Elman had set up the young WWII vet in business in Bakersfield.
The couple were married for 50 years and enjoyed a full active life of traveling and RVing, camping, fishing and working in the family business together. Shirley's side career of social action and helping others began early on when she settled Russian families in the Bakersfield area. For more than 40 years, Shirley and Marvin spent summers in Klamath, Calif., fishing and hiking with their children and grandchildren. Her passion for the Redwoods led her to become a volunteer park ranger at Prairie Creek Redwoods State Park, where for more than 10 years in her 70s she led people on hikes and tours through the redwood forest.
She was very involved with City of Hope and helped organize Meals on Wheels, the Simcha Set and many other activities for older adults.
After Marvin's death, she met and married Irving Herb Baker and moved to Kansas City for 10 years before returning recently to Bakersfield to be close to her family. While in Kansas City, she and Herb were members of The Temple, Congregation B'nai Jehudah where she was a member of its Sisterhood.
Shirley's full and adventurous life was marked by her indomitable spirit, zest for life, thirst for knowledge and passion for helping others. She loved playing bridge and teaching Mah Jongg, as well reading avidly and doing crossword puzzles and jumbles every day. Her family was the center of her life, especially her grandchildren who brought her immeasurable pride and joy.
She was preceded in death by her parents, her first husband, and her son Daniel Lipco, who died last January.
Shirley is survived by her husband, Herb Baker; brother, Harold Berman and his family; daughters, Sharon Lipco and Cantor Lisa Lipco Levine, married to Andy Levine; son, Marc Lipco, married to Nan Lipco; daughter-in-law, Dr. Lillian Michel; and grandchildren, Emily, Louis, Steven, Shelley, Sandy, Olivia, Gabrielle and Alexandra.
A memorial service took place on Thursday, Dec. 27, at Temple Beth El, in Bakersfield, immediately followed by interment at Greenlawn Memorial Cemetery. Donations may be made to Temple Beth El, 2906 Loma Linda Drive, Bakersfield, CA 93305; Shirley Lipco Baker Social Action Fund, www.templebethelbakersfield.com; or Save the Redwoods League, www.savetheredwoods.org.