| | | | |
| --- | --- | --- | --- |
| Yeshiva U dean visits BIAV this weekend | | | |
Written by Carol Katzman, Contributing Writer
Wednesday, June 13 2012 10:20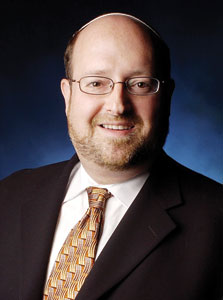 Rabbi Dani Rockoff has been trying to get Rabbi Kenneth Brander to visit Kansas City for three years, since the inception of the Yeshiva University Kansas City Summer Experience internship program began. This year, with two of Rabbi Brander's children in the program — son Tuvia, leading the group for the third time, and daughter Tehilla as a participant — Rabbi Brander unhesitatingly agreed.
Rabbi Brander will highlight this last Shabbat of the interns' four-week stay in the Greater Kansas City Jewish community, serving as a scholar-in-residence for Congregation Beth Israel Abraham & Voliner. Only 10 interns were accepted this year from an applicant pool of 56, said Tuvia Brander, a rabbinical student at the Isaac Elchanan Theological Seminary of YU, who serves as the 11th member of the group and serves as program director and rabbinic intern at BIAV.
"It is Rabbi Brander's vision and ongoing support that made this program into the successful model into which it has grown. Other cities, such as Houston, Chicago and South Bend, have created similar models," said Rabbi Rockoff, the spiritual leader of the modern Orthodox synagogue. "As we look to building our community, there is no greater voice to learn from than that of Rabbi Brander."
Hosting Rabbi Brander is quite a coup, added Rabbi Rockoff. Because Rabbi Brander's position takes him away so often from his family and community in Teaneck, N.J., he normally does not accept many speaking engagements. But the success of the K.C. internship program not only gives him a chance to see it in action but will also help him build the growing repertoire of programs and initiatives of YU's Center for the Jewish Future (CJF), which he leads.
"Obviously the internships are critically important. One aspect to the value of attending Yeshiva University is our ability to help our undergraduates with their professional growth by giving them unique internships and research opportunities in companies and facilities around North America," Rabbi Brander noted. "Furthermore, the Torah learning with community members in the evening, after their internships, models the lifestyle we wish for them to emulate — engagement in society through work and recognizing their responsibility to be leaders in the Jewish communities they reside in."
Named Dean, Rabbi Brander officially launched the CJF in 2005. According to YU's website, its goal is to help "YU's efforts to shape and effectively impact Jewish life and the Jewish future. Collaborating with YU colleges, schools and affiliates, CJF helps to build programs and initiatives, which actively develop future Jewish lay and professional leadership."
Prior to accepting the position, Rabbi Brander led Florida's Boca Raton Synagogue. He was also the founding dean of the Boca Raton Community Kollel as well as founder of the Weinbaum Yeshiva High School of Broward and Palm Beach Counties. During his 14 years of service there, he oversaw its explosive growth from 60 families to some 600 families. Under his leadership, the Hahn Judaic Campus was built to include the Boca Raton Community Mikvah, a sanctuary, library, social hall, a youth and senior center and a yeshiva high school.
"More than any specific topics, I look forward to visiting with the community, spending some time with Rabbi Rockoff and the leadership, learning from your wonderful work and seeing if I can be helpful in anyway," explained Rabbi Brander. "I will be spending time with the group of YU students. I want to help them process and realize the wonderful opportunities that there are for young people to live in communities like K.C.," added Rabbi Brander, who will be accompanied by his wife, Ruchie, and 7-year-old son, Yitzhak. Two other sons, Yoni and Yosef, are at Camp Stone in Sugar Grove, Penn.
The interns — five men and five women who hail from New Jersey, New York, Pennsylvania, Rhode Island, Ohio and Michigan — are busy interning at such diverse businesses and non-profits as Blue Star Benefits, the Jewish Federation of Greater Kansas City, Jewish Family Service, the Urban League, as well as shadowing health professionals from eye surgeons to geneticists. They major in academic areas from marketing, math, art history, Judaic studies and political science to physics, English lit, biology and Jewish education. Two have already graduated YU and will begin working in their fields this summer; the rest will be entering their junior or senior year at Stern College for Women or Yeshiva University.
"I saw an opportunity to really learn from a unique community and combine that with real work experience," said Samantha Feldman, a recent graduate from Lancaster, Penn. She's been working in the development department at the Urban League, helping to design and organize some upcoming fundraisers. "Every day is another day of meeting fantastic people and learning new things," she added.
Noted Alan Avitan of Cleveland, who is interning at Blue Star Benefits: "We get to be integrated in a totally new Jewish community other than our own and are given the opportunity to meet and learn with completely amazing people. We also go on trips that really show us all that Kansas has to offer."
Both agree that without the YU KC Summer Experience they probably would not have had the opportunity to work at such high level jobs, nor would they have been able to explore what communities like Kansas City have to offer. Credit goes to Margie Robinow, finance vice president of BIAV, who raised the funds needed to support the program.
"We want to grow Kansas City Jewishly," said Robinow. "These are very bright young people — and we have jobs here. Let's teach the rest of the world that Kansas City is a great place to live — and a great place to live Jewish."
"The Mystical Identity of Shabbat" will be the topic of Rabbi Brander's d'var Torah at 9:45 p.m. this Friday evening, June 15, at the Robinow home. During Shabbat services on Saturday at BIAV, he will discuss "The Future of Orthodoxy: Challenges and Opportunities." Rabbi Brander will conclude with "Beit Ha'Mikdash, Beit Ha'Sefer and Mikdash Ma'at: Exploring the Contemporary Role of a Synagogue and School" at 6:45 p.m. Saturday evening, prior to Mincha.
Rabbi Brander will be the second speaker in the last month to come to BIAV to discuss the future of the Jewish community. Dr. Steve Savitsky, chairman of the board for the Orthodox Union, addressed the congregation about "Major Issues that Face the Jewish Family in the 21st Century."
"Mr. Savitsky has long championed what he terms 'Emerging Communities,' something he coined to change the perspective of those living in large metropolitan areas," said Rabbi Rockoff. "For years he has seen that the future of the Jewish community cannot be sustained only in New York, LA, or Chicago. There need to be thriving communities everywhere. His visit is a sign of his support of communities such as ours to join the growing network of cities growing into viable options for Orthodox families around the country."
"This YU summer experience allows our students to see larger the Jewish community and that there is a wonderful quality Jewish life past the New Jersey Turnpike," added Rabbi Brander.
The summer interns  have definitely been able to experience life outside a large Orthodox community.
"Between learning from the staff and services of Jewish Family Service to learning with and from the people of BIAV, I have seen what it means to live a life dedicated to one's professional life as well as dedicated and passionate about one's community," said intern Miriam Barth of Detroit.
Tehilla Brander, a junior at Stern, majoring in biology, added, "The program seemed like the perfect balance of what I would like to do in my adult life — mainly, having the balance between a career while also being involved in the community."
For more information about the YU KC Summer Experience or Rabbi Brander's visit here, call Congregation BIAV at 913-341-2444.